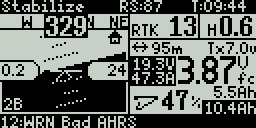 This project is what I've been working on in the last couple months, an open source lua based telemetry script for the Taranis X9D, X9E and QX7 radios, it uses the frsky passthrough protocol and requires opentx 2.2 and a recent release of ardupilot.
The script supports all the telemetry DIY 0x5000 packets sent by ardupilot's frsky passthrough protocol library.
The project is hosted on github
Screenshots
dual battery view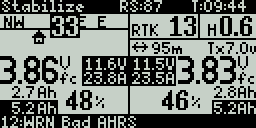 mavlink messages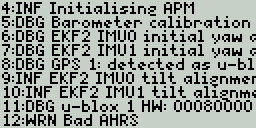 configuration menu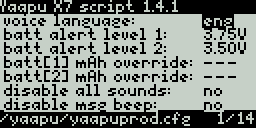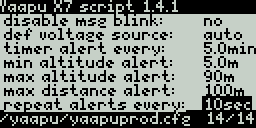 min/max values view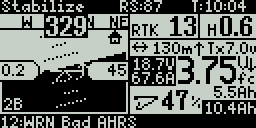 Features
configuration menu, long press [MENU] to display
per model configuration saved in MODELS/yaapu/modelname.cfg
flight mode (modes are displayed based on the frame type:copter,plane or rover)
artificial horizon with roll,pitch and yaw with numeric compass heading
mini home icon on yaw compass at home angle position
battery voltage from 3 sources (in order of priority), short pressing [ENTER] cycles between the sources
– frsky FLVSS voltage sensor if available (vs is displayed next to voltage)
– frsky analog port if available (a2 is displayed next to voltage)
– flight controller via telemetry (fc is displayed next to voltage)
battery lowest cell if available or cell average if not
battery current
battery capacity and battery capacity used in mAh and %
power as battery voltage * current
frame type (TRI,QUAD,HEX,OCTA,DODE,WING,VTOL,…)
vertical speed on left side of HUD
altitude on right side of HUD
gps altitude
gps fix extendend status (2D,3D,DGPS,RTK)
gps HDop
flight time
rssi value
transmitter voltage
home distance
horizontal ground speed or airspeed if configured in mission planner
home heading as rotating triangle
mavlink messages with history accessible with +/- buttons short press
english, italian and french sound files for selected events: battery levels, failsafe, flightmodes, alerts and landing
Advanced Features
dual battery support (dual FLVSS and/or dual battery from ArduPilot) short press [ENTER] to display second battery info. If a second battery is detected there will be a "B1+B2" label on screen.
capacity override for battery 1 and 2
min/max for battery/cell voltage, current, altitude, ground and vertical speed, short press [MENU] to display min/max values
vocal alerts for battery levels, max distance and min/max altitude (vocal fence)
configurable vocal timer alert every n minutes
sensors VFAS,CURR,Alt,VSpd,GAlt,Hdg,GSpd,Fuel,Tmp1,Tmp2 are exposed to OpenTX
feedback is very welcome!