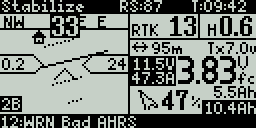 Congratulations to community member Yaapu (Alex) for winning Ardupilot's "Best Contribution of the Month" award for February 2018, for his work on an open source Frsky telemetry script for the Taranis X9D,X9E and QX7 radios.
Hosted on Github, Alex's Lua script runs on OpenTX and includes a slew of features, including advanced functionality like dual battery support and vocal fence with max distance and min/max altitude alerts. It supports Ardupilot's 19 Copter and 20 Plane flight modes, along with Rover's 9 driving modes.
The prize for the month was $200 for the top contributor. Thanks to those who donated to ArduPilot, including our Corporate Partners. If you are a company and wish to donate a prize for an upcoming month, please email the partners email list (partners@ardupilot.org).
Congrats Alex!