In our Tri-Tiltrotor VTOL "Mozart" we have now (>100 flights) killed several expensive high-performance batteries without ever having demanded power beyond specified limits. Unfortunately, Li-ion batteries age very quickly when high power rates are demanded at the end of the capacity. We think, this is a fundamental problem of VTOLs, because for vertical landing at the end of the flight (and of the battery capacity) you need again full power.
Following an idea of my colleague @Walter, we have supplied a Quad Conversion of a Mini Talon with two batteries (like @Pompecukor did at lest one year before): one battery optimized for the quad motors and hovering, one lower c-rated but higher capacity battery for the forward propulsion.
The diagram shows the wiring with two power modules on a conventional Pixhawk.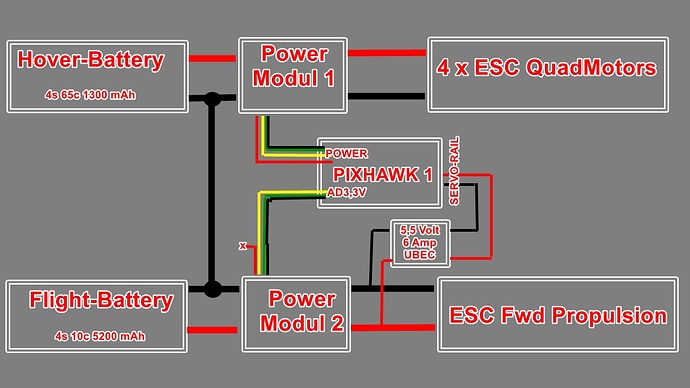 From the second powermodule, only the voltage and current sensors are used and fed to the 3.3V AD inputs (BATT2_VOLT/AMP_PIN = 13 and 14) of the pixhawk.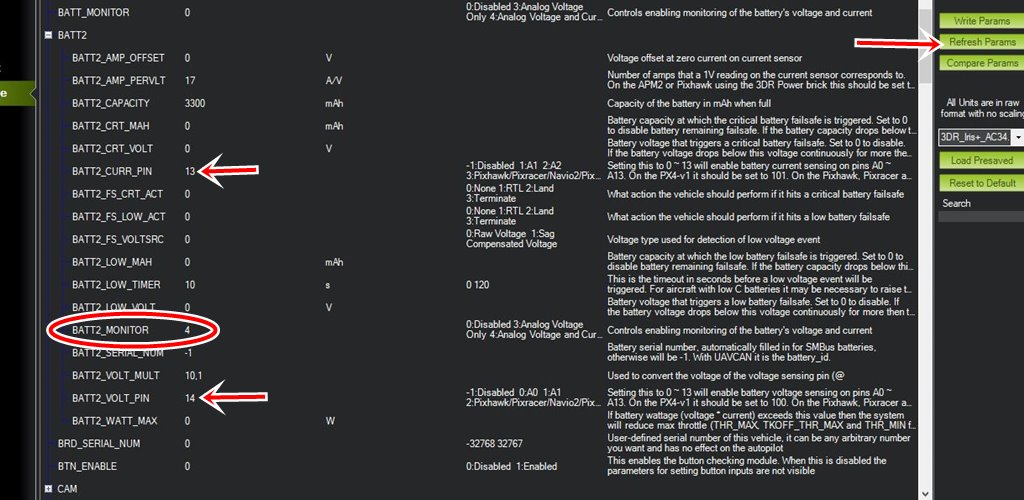 The day before yesterday we successfully performed the Maidenflight. Note the separate displays for both batteries:

From the 4s 65C 1300 mAh 300 mAh were consumed. From the 4s 10C 5200 mAh 1000 mAh were consumed (nearly 10 minutes in planemodes with 60-70 kmh)
Today we enjoyed the second flight, without having to worry about the plane could not have enough power for vertical landing at the end of the flight.
Regards Rolf