Hello,
What could cause following behavior. This behavior is repeatable on with different vehicles and locations.
LOG: https://drive.google.com/file/d/1ZKGzMJzU781zQhipO3jjwjnPJpqHCWR6/view
I waited for a dgps status before I manually liftoff the multicopter in Loiter mode. After that I raised height to about 5 to 10 meters. I checked that YAW heading is pointing outwards from me and then I tried to fly straight forward outwards from me. Multicopter's position starts to wander/slide to right compared to the course it should have while going forward. Then I will release PITCH control which starts the braking maneuver. While the drone is braking its doing something that looks like a toilet bowl effect.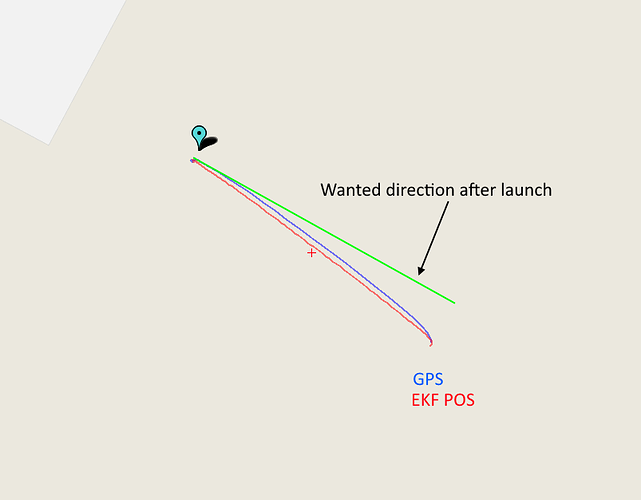 The green line on the image shows which direction I have pointed the heading and where it should have flied if it would flown straight.
After flying/maneuvering for two to three times to some directions (e.g. backwards, forwards) the drone starts to go straight and starts to stop in a straight path. I have checked that behavior with Compass EKF learning ON and OFF.
NKF1.YAW and ATT.YAW show that it was at least thinking it has a solid YAW direction. The autopilot has chosen declination that is checked to be correct. EKF seems to be quite happy with all estimations.
Is this non precise flying related to EKF converging for better estimation at the beginning of the flight?
This behavior prevents to have precise control from beginning of the flight. I believe that this could also cause a bit incorrect flight path in a automated mission, where drone will launch and tries to head to the closest waypoint.