Limitation:
SERVO2_MAX=1600
which is reached frequently as seen on RCOU.C2.
I'll increase this. However, with CRUISE_SPEED=4.7 and not having inserted DO_CHANGE_SPEED waypoints, the car simply goes too fast (in another test, also at 4.7m/s, the car was stopped at a barrier), as well as at 1.6m/s the car went too fast at the small circuit.
Also:
SERVO2_MIN=1000
SERVO2_TRIM=1517
Minimum RCOU.C2 is seen as SERVO2_TRIM: the car does not brake. Above (december 18):
"… On the big circuit add DO_CHANGE_SPEED waypoints and improve lap time. How can I brake the car?…"
No answer.
These are the waypoints types:


I wonder if a DO_CHANGE_SPEED with a negative speed would make the car brake, making R2.COU go under SERVO2_TRIM=1517.
---
"…What is your hardware setup with regard to accelerometers and connected wires? Do you indeed have two sets? Is one of them subject to more electromagnetic interference than the other?.."
The controller is a Pixhawk, with the adition of two external compasses. The probable sensors are as follows: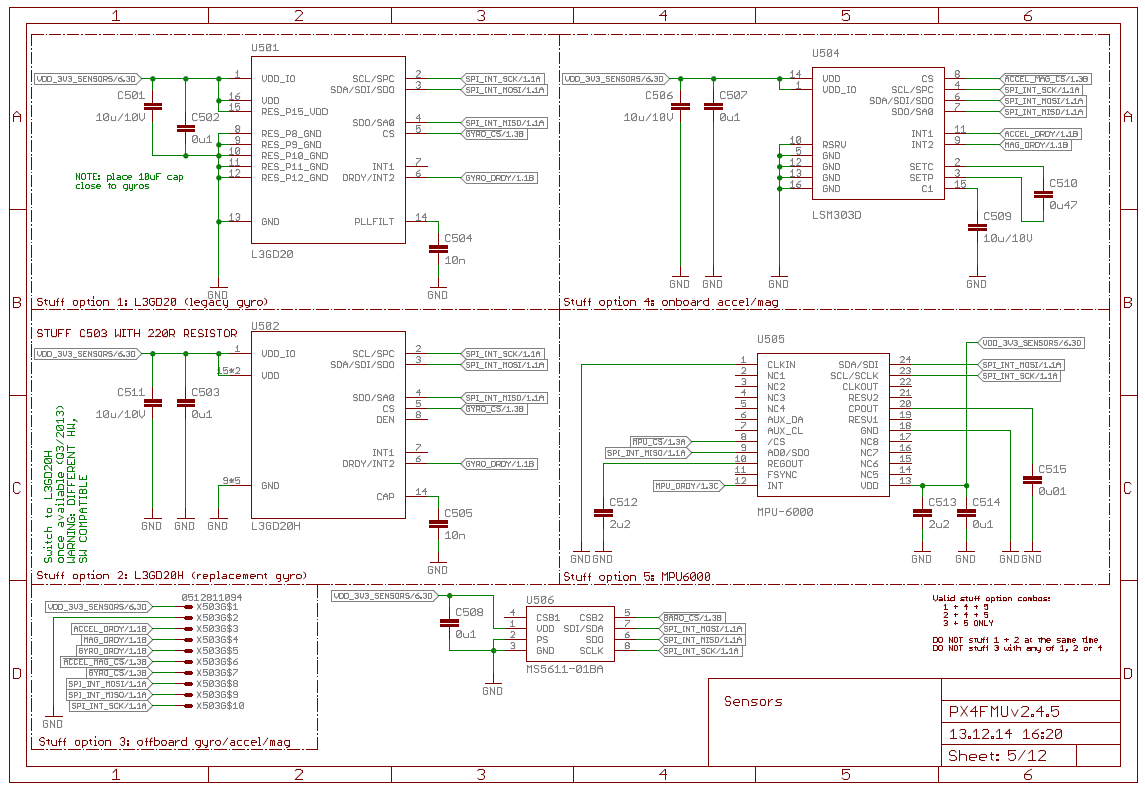 From the Pixhawk documentation:
Sensors:
-MPU6000 as main accel and gyro
-ST Micro 16-bit gyroscope
-ST Micro 14-bit accelerometer/compass (magnetometer)
-MEAS barometer
The MPU6000 and the MEAS barometer are clear in the schematic above (MPU-6000 (from Invensense) and MS5611 (from TE)), but not so much the ST components.
From ST documentation:
L3GD20H: 3-axis gyroscope, I2C/SPI digital output, low-power 3-axis angular rate sensor, 16 bit rate value data output, I2C/SPI digital output interface.
LSM303D: 3D accelerometer and 3D magnetometer, 16-bit data output, I2C serial interface
So the ST Micro 16-bit gyroscope in the Pixhawk documentation should be the L3GD20H in the schematic, and the ST Micro 14-bit accelerometer/compass (magnetometer) could be the LSM303D in the schematic, being "14.bit" an error.
What is labelled X503 (offboard gyro/accel/mag), being others labelled Uxxx, should be an SPI gyro/accel/mag (I don't know which), but I have not added anything like this.
So IMU1 and IMU2 are those inside the Pixhawk, moreless in the same conditions (at different distances from the 3DR antenna or the motor). Being from different manufacturers (Invensense and TE) they may behave differently.