Hello, I built a 3" drone, X frame with Matek f405ctr, 4 in 1 ESC, 4000KV motors. This drone flew under INAV and now I installed Ardupilot V 4.0.5. No GPS yet, built in barometer and external mag QMC5883L. Flysky FS-I6X transmitter and mini Flysky receiver. IBUS.
As I mounted the compass several cm away from the other electronics, there is little distortion.
I double checked motors order, propeller orientation, did all calibrations … but when I arm the copter the motors turn irregularly. Impossible to take off.
In motor test mode, the motors spin smoothly. When I arm, the motors idle smoothly too. As soon as I increase throttle, the oscillations occur.
I read all related posts but I did not fint the solution for this problem.
I add a screenshot showing RCIN and RCOU for channels 1-4. I also add a log file. During this "flight" I held the drone in my hand, it has not yet flown under Ardupilot.
Does someonne have a clue what is wrong here?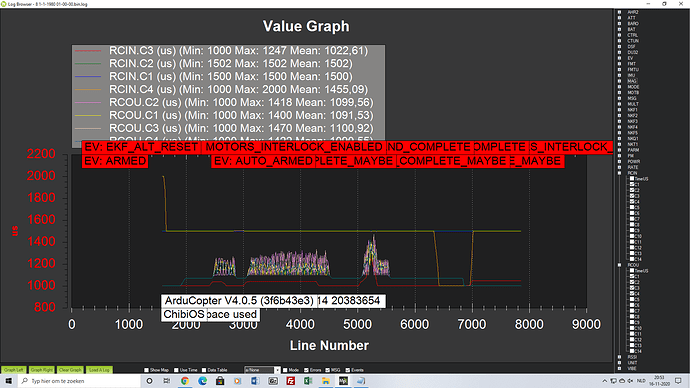 8 1-1-1980 01-00-00.bin
(296 KB)