This is a follow-on to my post yesterday about if changing the parameter GPS_RATE_MS to prevent EKF warnings of BAD GPS HEALTH is a good approach.
As I understand the docs, EKF issues the warning "GPS BAD HEALTH" if the GPS refresh rate falls below 5HZ. (200ms) And 200ms this is the default setting. My test flights yesterday got several spikes of refresh rates of 400ms - which seem to trigger the several EKF warnings.
Today, in an effort to eliminate the GPS BAD HEALTH warning from EKF, I lowered GPS_RATE_MS from "200" to "125". (Increasing the GPS refresh rate from 5HZ to 8HZ)
Graphing the refresh rate in flight (gpa.delta) it appears that about halfway into the flight the GPS rate dropped from 125ms (8HZ) to 200ms (5HZ). And there are spikes of up to 300ms (3.3HZ) These spikes from 200ms to 300ms triggered only one EKF warning GPS BAD HEALTH.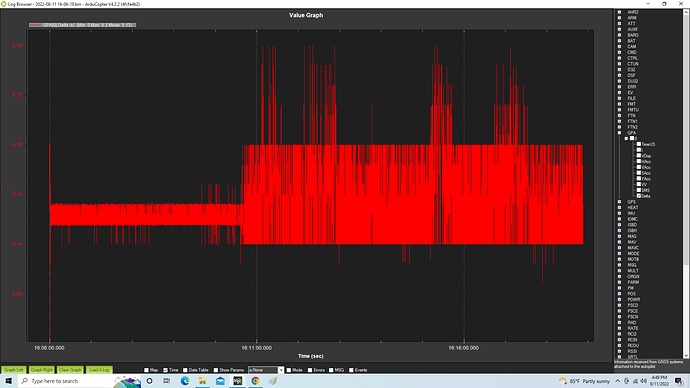 In some of the old forum threads about the EKF warning GPS BAD HEALTH there is a caution about setting GPS_RATE_MS to something faster than 5HZ. Maybe this is the reason why. But as this rate can be set much higher - I'm wondering about that. Especially since we have more capable autopilots and GPS than were available when those posts were published.
I'd appreciate it if anyone could suggest why the GPS refresh rate seems to have changed mid-flight - and if there's something that can be done to prevent it.
There's another parameter GPS_DELAY_MS with very little information about it in the docs. I'd like to know more about it - especially if it relates to this issue.
Thank you for any and all thoughts and comments!