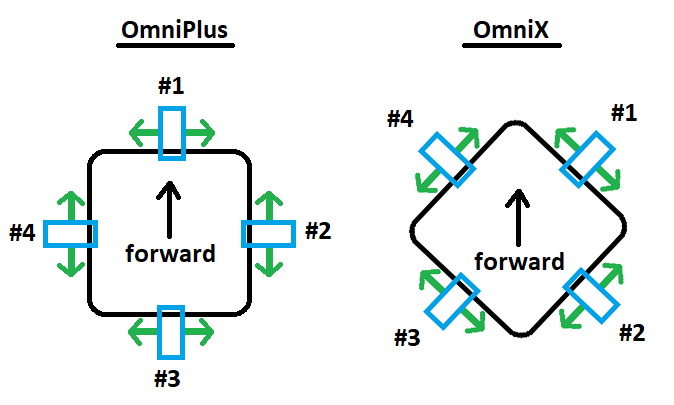 Rover-3.5 will include basic support for "Omni" boats (and cars) that can move laterally using 4 thrusters as shown in the diagram above. It's "basic" because for now, the ability to move laterally is only supported in Manual mode. Auto, RTL, etc will work but the vehicle will turn to get back onto the line towards the next waypoint instead of moving laterally to get back on the line.
The code hasn't been tested yet because neither the main developer AmmarF nor I has a boat like this. So if anybody does we would greatly appreciate help in testing. The setup is like this:
load the "latest" ArduPilot Rover firmware onto the flight controller. If using the Mission Planner on a pixhawk go to the Install Firmware screen and press Ctrl-Q. The label under the Rover icon should change to "ArduRover V3.5.0-dev". Click on the icon to install this firmware.
connect the thrusters to the flight controller's main outputs using the mapping shown in the pic above
set the SERVO1_FUNCTION to motor1, SERVO2_FUNCTION to motor2, SERVO3_FUNCTION to motor3, SERVO4_FUNCTION to motor4.
set the FRAME_TYPE to "2" for OmniX, "3" for OmniPlus.
You should find that the yaw stick allows moving the vehicle laterally in Manual mode.
Thanks in advance to any one who can help us test this new frame type!