Hola Rollys, pudiste armar tu VtBird?
No, not yet. Too many things going on at the moment. Hopefully in a few months when things settle down, I'll start on it.
Google translate:
No aún no. Demasiadas cosas pasando en este momento. Con suerte, en unos meses, cuando las cosas se calmen, empezaré con ello.
Me encuentro armando un Vtbird 4+1, quería saber si me podrías indicar cómo realizar el cableado a una controladora Cuav v5 nano?
Just follow the wiring diagram the way Finwing Hobby has it specified. You can download their Ardupilot parameters here.
Good luck.
Google translator:
Simplemente siga el diagrama de cableado de la forma en que Finwing Hobby lo ha especificado. Puede descargar sus parámetros de Ardupilot aquí.
Buena suerte.
Hello Greg. Did you manage to find out the flight time of your fighter with 6S 21Ah lipo?
No se encuntra especificado por Finwing Hobby el cableado. Necesito saber que puerto utiliza cada motor y cada servo y mi controladora.
Esta era la página 3 de su manual. Espero eso ayude.
Buena suerte.
This was page 3 of their manual. Hope it helps.
Good luck.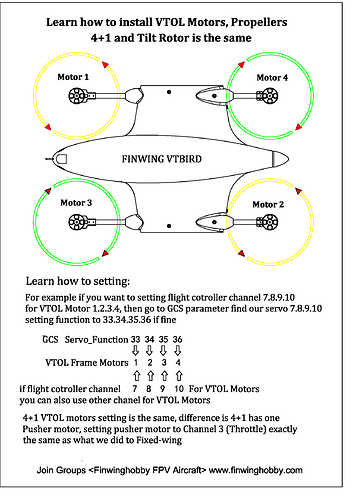 Me fue de ayuda! Muchas gracias.
Me podría ayudar con otra duda? Necesito saber si los alerones se pueden conectar ambos a la misma salida de la controladora?
HI thanks for the informative discussion on this forum. I have been flying a Believer using a pixhawk 2.1 and cube Black with a Here 2 GPS. I am looking to switch over to a VTOL system and am currently looking into the MFE Striver as I can use the 6S system from the Believer. Will the Pixhawk Cube Black be suitable for this? Any assistance with this would be greatly appreciated. Thanks
Hi…It should work. I don't see any reason why it shouldn't. The black's F4 processor has tons of power to run a VTOL model.
@sidajili Thanks for your response. Good to know that the cube black is such a capable machine.
I thought others might like to see my airspeed install for Striver Mini:


key features:
a bit further along wing than others, so doesn't interfere with arm folding
recessed into foam instead of through foam, so it can be further out from the leading edge for less positional error from accelerated air on static port
tubes are run along channels cut in the foam, then whole thing held with tape
using CAN sensor (new Hitec DLVR airspeed sensor in this case)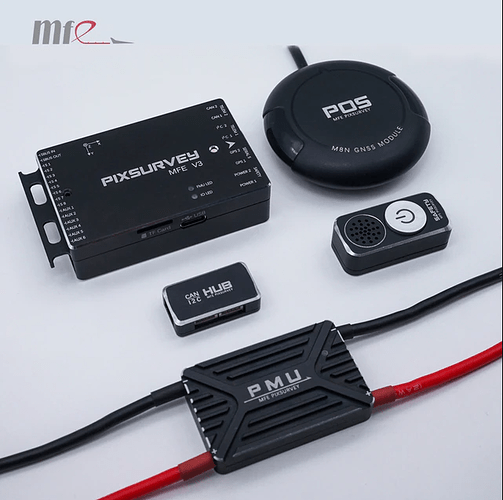 The MFE team released a FMU v3 flight controller, you can learn more through the link below.
https://discuss.ardupilot.org/t/a-pixsurvey-v3-flight-controller-is-recommended-developed-based-on-fmu-v3-which-is-more-suitable-for-vtol-aerial-survey/83700
Lo normal es que así sea; los alerones van a la misma salida. Eventualmente pueden ir a canales indepedientes si se quere tener un control muy fino del alabelo.
Hi udamudam
I have fighter VTOL 4+1 Quadplane , and i have faced many issues about wiring diagram CUAV v5+ and parameters…
Please can you send me your wiring setup and parameters…
My regards
Ala
Still flying the Striver…
Changed radios and put a camera out near the wingtip to get a clear forward view.
Did a flight test today and forgot to turn the cameras on

Otherwise, stills fly solid. Maybe tomorrow get a camera check…
Remembered to turn the wingcam on today!
Looks like it bounces a bit so next flight I'll turn on the stabilization and see if it helps the video.
Uploaded a short video that shows the prop visible in quad mode. But after transition, it streamlined and stays out of the camera's view (about 32 sec in you can see it disappear on the left side. Also left a minute of the landing transition to see it reappear into view.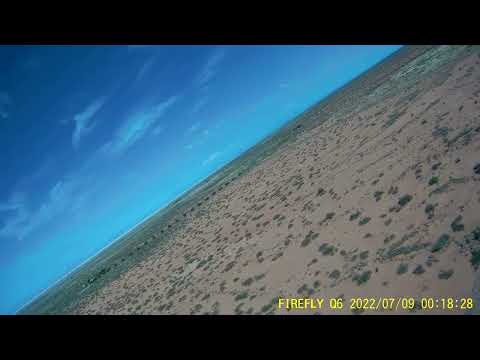 took another flight w/the camera stabilization on … think it will be fine for watching the flight progression…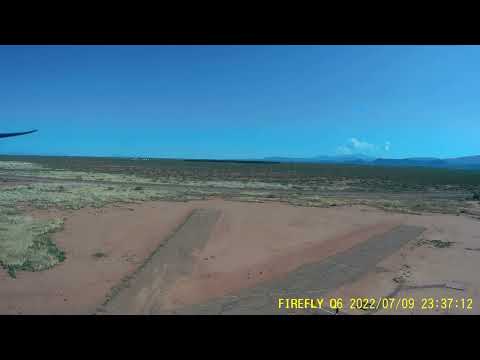 [Edit so I can post more than 3x]
Tried to get a quick flight in this AM before the rain … didn't make it …
Hit RTL. During the rough descent, you can see little streaks as if the camera was failing. Those are the rain drops that just became a downpour at touchdown.