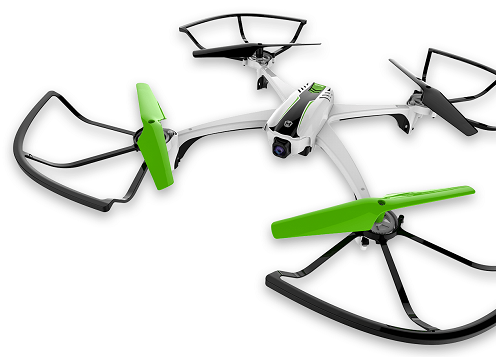 We are happy to announce that SkyRocket will soon be releasing a new ArduPilot based low cost (about $150), low weight (about 145g) drone called the SkyViper GPS Streaming drone . There is a version with FPV headset as well. Note that the SkyRocket drones flying with ArduPilot have a white body.
We expect this new drone will be on sale from early October through Amazon, ToysRUs and Target in the US, Canada, Chile, France, German, Holland, Lithuania, Mexico, New Zealand, Serbia, UK (with more countries being added to the list later).
Tridge and Matt (from SkyRocket) discussed this new drone on sUAS News earlier this week:

And it appears Gary then had some fun with Throw mode soon afterwards:

We've created a special wiki page that we will fill out with more details but until then here are some details:
Hardware:
the flight controller is a custom STM32 board designed by Philip Rowse (designer of the Pixhawk2). With a bit of hacking, you can get access to:
5x serial ports
1x I2C
1x SPI
IMU is ICM20789 which includes 3-axis accelerometer, gyro and even a barometer!
Ublox M8 GPS
the battery is a single 1S (i.e. 4.2V max) and it can fly for about 11min in our tests. Replacement batteries are readily available on Amazon and other places (same as other SkyRocket drones).
brushed motors
top speed of between 8m/s ~ 10m/s
the camera can be manually adjusted to point forward, down or anywhere in between but it's not a servo or brushless gimbal.
Software:
the ArduPilot (Copter) flight code is close to Copter-3.5 but has additional features that will be coming back into master in the near future (notch filter, etc). It can do all the things that you expect ArduPilot can do (all the flight modes and autonomous mission commands, etc) and of course you're free to customise or upgrade the firmware on the drone as you wish.
wifi telemetry and video streaming.
the live video can be viewed through a SkyRocket app that you can run on your tablet and Mission Planner support for video is coming soon.
APWeb (a tiny open source web server) also runs on the drone which allows easy modification of parameters, uploading firmware to the drone and transmitter, calibration, downloading log files, pictures.
the transmitter has a relatively low powered STM8 processor running open source software written by Tridge (incorporates some code from Papparazi). more details to follow.
The dev team is very excited about the release of this new drone. It will likely introduce ArduPilot to a lot of new users and we also expect that many developers will use it as a low-cost development test platform. The potential to use these for swarming is also very exciting.
Congratulations to Tridge, Peter, Leonard, Rob and Philip who put in a lot of effort to get this tiny drone flying well.
Special thanks to Matt Morton and the rest of the team at SkyRocket for choosing ArduPilot!