Hello, I just got a really weird problem. I have some SiK radios (possibly these ones from Erle robotics but I am not sure, it's been a long time). They have the 1.9 firmware and cheerfully talk to each other. They also talk to a newly bought mRo SiK Air Telemetry Radio V2 running firmware 1.9.
I made the mistake of upgrading one of them to the 2.0 firmware (using Mission Planner). Now, the radio with the 2.0 firmware does not talk to the 1.9s but it gets weirder. When a 1.9 radio is on, the 2.0 radio gets a solid green LED, as if it connects but only the 2.0 radio. The 1.9 radio is totally unaware and is blinking its own green LED as if in search mode. If I try to connect, I predictably get stuck at getting params. Even more weird, on the radio with the 2.0 firmware, the tiny orange LED next to the solid green LED flickers rapidly as if something is happening. It is as if the 2.0 radio is hearing something but its own transmission does not get through to the 1.9.
I attach two images. The one showing the 1.9 firmware radios shows the laptop radio (from Erle) having connected and fetched the params of the MRO Air radio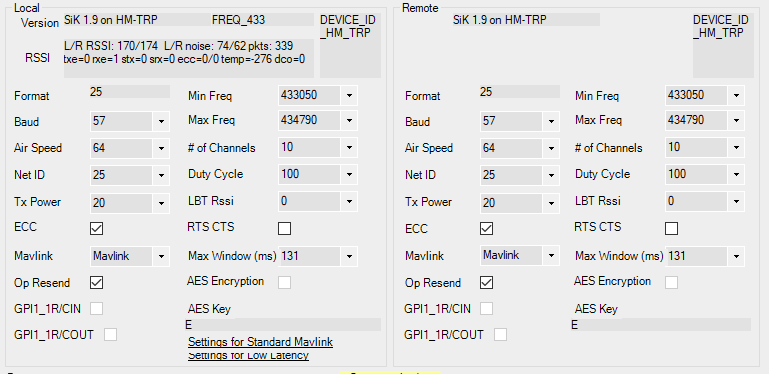 The image showing the 2.0 firmware radio shows its params. The only difference in params (apart from the firmware version) is the "format" param, whatever that is. It is not a changeable param.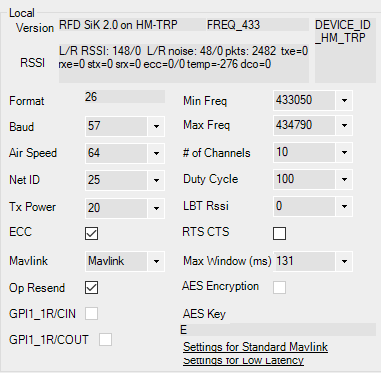 Any ideas anyone?