Has anyone implemented a red "Remove before flight" strap in place of the safety switch?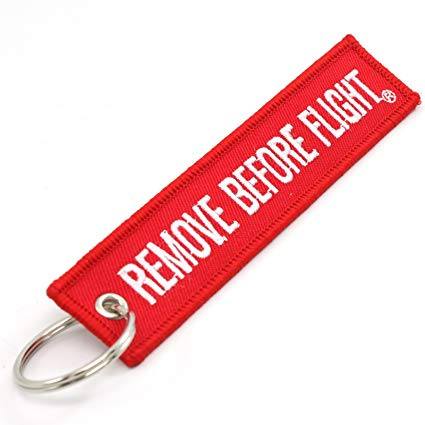 Maybe it could read something like "Remove to Arm"?
Its pretty simple:
When the red tag is installed, the FC cannot arm
When the red tag is removed, the FC is free to arm
How would Arducopter behave if the safety switch is simply held closed with a relay? Can it arm while the safety switch is held closed? Does that pose any safety risks mid flight?
That would make this easy; simply wire a SPST-NC relay in place of the safety switch and solder a jumper across a connector such as a deans T-connector or XT60, etc. Insert the jumpered connector, and the relay opens (ie - the safety switch is not pressed) Remove the jumpered connector and the relay closes (ie - the safety switch is pressed)
Another way, which more closely mimics the function of a momentary push button such as the safety switch, is to wire a relay in place of the safety switch and couple it with a little bit of axillary circuitry to enable a continuous signal to output a momentary voltage just like the safety switch:
The capacitor allows the coil of the relay to be energized until the capacitor stores a charge, thus de-energizing the coil. The resistor bleeds off the charge of the capacitor when positive voltage is removed from the other side of the coil. You can increase the output time by simply changing the value of the capacitor. This one will give you about a 1/2 second output.
The circuit shown here represents the common automotive bosch style relay, but the concept would be the same with a much smaller and lighter relay.
I will try to breadboard a prototype up and see how it goes. For one, i think the "Remove before flight" straps are simply cool, but it also provides a very obvious and visual reminder as well as reassurance when working on the copter when powered on that it is in a safe state - even from some distance away.