I've experienced few times that my copter in Mode Auto, when it started to gain altitude it seems it could not stop climbing.
Switched to RTL the copter immediately react, changes its intierary back to launch but still climbing instead of descending.
A couple of time my copter climbed over 100 meters in both Auto/RTL modes switching to Loiter immediatlely reacted to command.
What is strange is that this did not happened all the time any other flight encountered no problems at all with perfect altitude control in AUTO & RLT.
On this picture when i launched Auto the copter was more or lesse to its targeted altitude 100 (1000 on the graph as its rescaled for lisibility) we can see that the copter as reach more than 100 meter above the requested altitude.RTL did not change the comportment loiter did immediatly.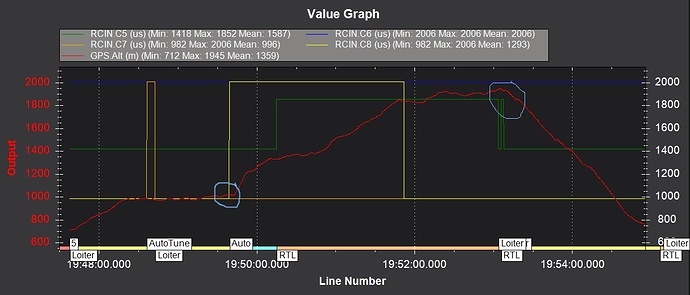 -No radio problem as the Ardupilot reacted to the commandes immediatley.
-No problem with GPS / Baro as the values are consistant in the log.
=After further investigation i found, well not the cause but at least i could recreate the phenomenom.
In fact it appears that in the fisrt minute the copter has pain to stabilise its altitude (with the GPS), well i take off on Loiter, then the Throttle to middle the copter is climbing, when i low the Throttle down the copter drops, pushing up again it climbs, again, afer 5 or 6 cycles like this well the altitude finally gets stabilised.
If i dont do this it will climb and climb, looks like it need to reach 1mn of stabilisation first to control properly its altitude after this the mission is really accurate (i made few jumps) it goes perfectly on the same path (even altitude).
On the photo attached (2018-12-24-17-42) you can see the 1st minute of flight where the baro altitude seems not consistant with the GPS one it trends to match then is ok.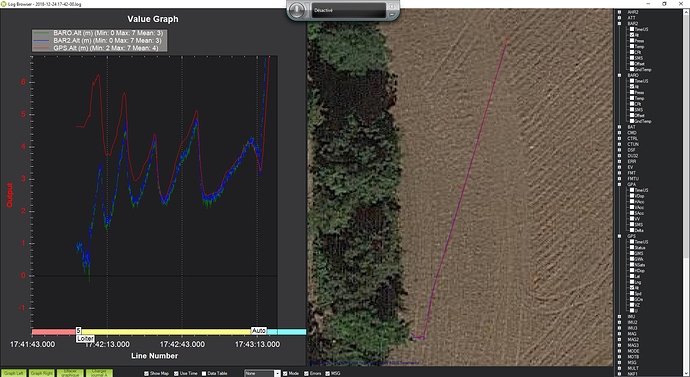 My understanding is that it takes nearly one minute to have the GPS altitude consistant to the baro's until this the NKF can use the altitude stabilisation, I mean until it only stabalize is that correct ?