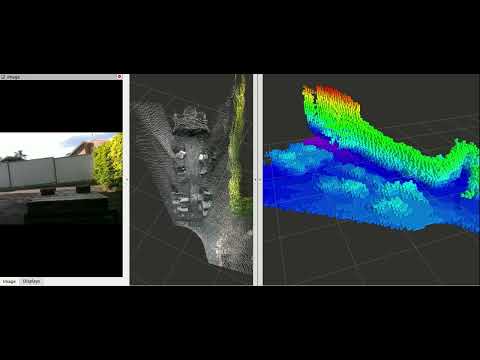 I've been taking a bit of a break from the ArduPilot side of the project to focus on some of the computer vision stuff required for the DRL algorithm. This is a complete SLAM operation using the Realsense D435i and T265 depth and tracking cameras along with the Rtabmap and Octomap ROS packages to create a 3D pointcloud map which can then be used generate an occupancy (level) map. This level map will be what the DRL algorithm uses determine the state space of the environment and trials future actions from.
It's turned out pretty well so far, only a little bit of noise and some object duplicates that still need to be tidied up but otherwise I am happy enough with it to start testing out some simulated states and actions for the start of the algorithm. The simulation will most likely use ROS commands to move while the real rover will use the companion computer to command attitude targets over MAVLink.
It was a little bit hard to fit all the visuals into to one window but the obstacle course is almost identical to the one used in part 3: Project: Rough terrain navigation using Deep Reinforcement Learning Part 3 - RC test run.
If anyone has any questions feel free to ask.
Tom.