I have trying to connect a Spectrum AR620 receiver to a PixHawk 2.4.8 running Copter 4.0.7 with no luck. It never appears in the APM Planner v2.0.29-rc1 Radio Calibration.
I originally connect it to the SPKT/DSM port, but that didn't work. After reading

I moved it to the serial4/serial5 ports. The wiring is:
Serial pin 1 (Vcc) to AR620 slot 1, middle pin (+)
Serial pin 6 (GND) to AR620 slot 1, bottom pin (-)
Serial pin 2 (TX4) to AR620 slot 1, top pin (S)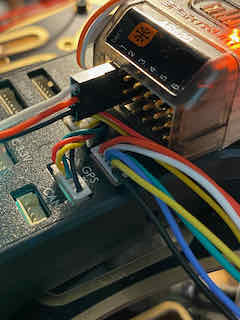 I set SERIAL4 parameters:
SERIAL4_BAUD: 1152
SERIAL4_OPTIONS: 4
SERIAL4_PROTOCOL 23
Various posts suggest SERIAL4_OPTIONS should be 2 so I've tried that, too.
Still no joy. The Rx powers up and binds. Per that post above, I've tried powering the Tx both before and after the PixHawk. Neither works.
I plug a servo directly into the Rx port 2 and it moves with one of the joysticks.
Any help would be appreciated.
Thanks,
Doug