Hi,
This thread is the continuation of the original conversion thread here on the Plane 3.8 forum.
From RogerR:
Roger asks a very good question. Since we now have a VTOL Plane forum, and the QuadPlane firmware has many new features, it was a good opportunity to continue the thread here.
You might be interested in mark_q's new design in progress where he plans to use tiltrotors up front and maybe a rear motor that tilts down and side-to-side for yaw control. In others words, a tricopter tiltrotor. Mark shares all his 3D printed designs and has been an excellent source of information on the mini Talon.
So keep in mind that the 5-motor quadplane design that I did gives up some efficiency for added simplicity. You can control yaw on a quad or Y6 configuration but on a tricopter, the tail typically rotates side-to-side for yaw control. This is supported in the APM quadplane suite.
You won't save much weight since the added tilt servos need to be pretty sturdy to counter the gyroscopic forces. Extending the motor rearward will add more boom weight, and you might need to extend the front motors forward to balance CG, especially when adding 2 servos way back there. The real savings is drag; a traditional quadplane requires dragging 4 dead props through the air for 95% of the flight which certainly might make it worth it.
I have grown to appreciate the traditional quadplane in the way it can blend in vertical and horizontal vectors simultaneously and seamlessly. Also, it can be difficult to find the right props for a tilt rotor. On a traditional QP you can have a very coarse pitch horizontal prop which is highly optimized for forward flight, but stalls at takeoff. Also enjoy using different batteries for vertical and horizontal flight (Li-ion versus LiPo)
Of the two tilt rotors you propose, I like the front two tilt motors better. I'm not fond of a downward facing prop extending out the back of the bird where it can easily contain the ground when pitching nose up. I also don't like the complexity of a 2 axis tilt mechanism needed to add yaw.
Hi Iam,
Thanks for posting your experience!
I forgot to mention that we also have the vectored yaw option if you have tilt rotors up front. This is a preferred option instead of the side-to-side tail motor like on a tricopter.
So perhaps a 4-motor quad configuration where the front two motors tilt forward can be considered. Like Iam, I do like the simplicity of the traditional quadplane and being able to use appropriate props for vertical or horizontal flight. These designs have worked well for me.
Glad to read that Mozzie proyect is still alive

Well, I have near all components to beguin my build:
Airframe: mini talon
Forward motor: Sunnysky 2820 1100kv (at the moment)
forward esc hobbywing 60A
prop 108E APC
Quad:
motors Tmotor F80
esc spider pro 30A
arms 153mm flat CF
Quad props: APC 6*4
Batts; 4s 5200 Tatoo * 2
FC ; mrobotics X2.1
GPS M8N H king
Radio and telemetry: Skydroid M12L long range system.
3d print detachable Wings
3d print accesories (when I finished reparing the printer

)
Im in summer and this looks a winter work but slow Im going to start the build
I agree with @iskess on the tri-rotor vs Quadplane. I did built a tricopter version and quadplane version, but end-up pursuing on the Quadplane design due to the weight issue. My goal is an air-frame with mapping camera <2kg.

Current build (inspired by the Mozzie VTOL) as pic below. It has been tuned and flown few times now, but still needs some further refinement.
Hi following this am in progress of reading the full param's of the other thread,was going to do the vtol on mini goblin but now think I will do it with Mini Talon,what width are the quad motors apart please so I can order carbon fibre many thank's,Marty
P/S great project and work by yo Greg and every one else many thank's
Hi Marty,
I'm not sure if your question was directed to cala or me so I will post my boom lengths below. I believe that cala posted his arms were 15x3mm using the 3D printed parts. The Mozzie documentation is here, but it wasn't obvious if the boom length was stated.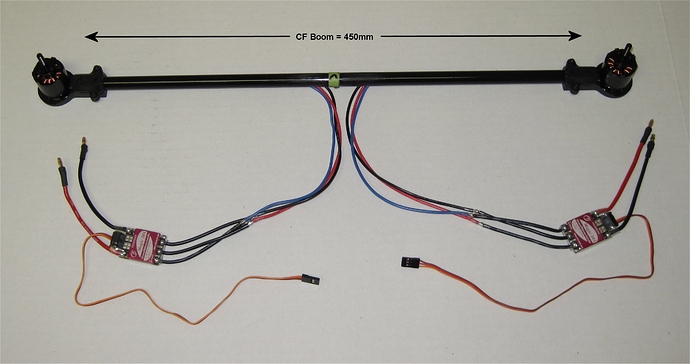 thank you Greg,ive got a bit of reading to do but can order the carbon tube and motor mounts
Marty, mines are flat bars 15mm x 3mm, I didnt cut them yet, probably I take the large size like mozzie, my props are 6x4. Looks at the mozzie instructions that If you choose their bangood link, you contribute with Jeff, who develops mozzie project , for future improvements without paying any more cent
. Welcome to the Mozzie club
thank you Ale will start ordering parts tomorrow great that you and Greg involved
Just a thought Ale and Greg,im woundering if it would be possible to do the conversion on a Nano Talon,the reason it would be easier for me to get it to the flying field would obviously have to alter quad width's and maybe some thing like a 2205 motor on 5 inch props look forward to your ideas and suggestions
Marty,
I have a nano Talon so I would not recommend using it as a quadplane host. My nano Talon is set up with a RadioLink mini Pix and flies almost 120 minutes using the Titan 4s 3.5AH Li-Ion pack. I also use several 4s 1.3AH Glacier LiPo packs that I had from another VTOL called the Ares V-Hawk. It's a great little FPV plane but is not built strong enough to handle the extra weight and stress of a quadplane.
The mini Talon is a much better fit with its larger size and straight as an arrow flying characteristics.
Your link is not working. Flat carbon bars are not actually a good choice. I purchased them and they have a lot of flex. It has been noted here that you need to stiffen them. I ended up getting carbon fiber ones cut. Much better.
Thank you Greg,why I love here honest straight forward answers will go with the Mini Talon need to find motor mounts to go with the carbon tube,really looking forward to this,im in love with a mini talon VTOL lol
Greg Ive ordered a Nano Talon to get more wing/plane flying in will be putting arduplane in it and the Skydroid radio then the mini talon and proper VTOL ye he im in paradise,one question would 4sx 1800 li po be o/k or to heavy its the smallest lipo ive got also got 3s x 3200 li on your advice appreciated
Hi Marty,
The Glacier 4s 1.3AH LiPo pack weighs 148g (5.2oz) and balances as shown above. My heavier pack for the NT is the Titan 4s 3.5AH Li-Ion pack which weighs 208g (7.3oz). It balances when turned 90 degrees from the Glacier pack and toward the back of the opening, just in front of the hatch lock.
For the stock NT power system, use 4s, not 3s.
Cheers!
Thank you will balance with my 1,8x 4s as ive got some of them in good order will look for a couple of 4s li on packs@3.5