I would like to show my work (in progress) on a simple system capable to realize indoor autonomous flight.
The system is based on a quadcopter with a camera that stream video (and telemetry) to a desktop PC and receive pose estimation message and command from the same PC.
The camera is downward looking and on the floor there is an Aruco Boards like this: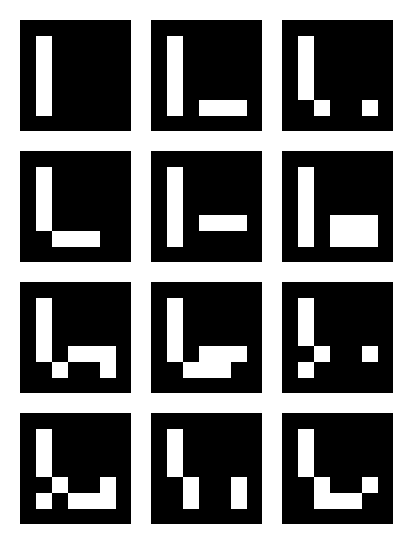 The pose estimation is calculated by aruco_gridboard ROS package on the PC and the relevant messages are sent back to the quadcopter using mavros ROS package.
The Flight Controller and the Raspberry Pi 0 on the quadcopter are connected via serial port whereas the Rapsberry Pi 0 and the desktop PC are connected via WiFi.
Some more info on my system:
A little quadcopter (130mm) with RevoMini FC with Arducopter 3.7-dev with @chobitsfan PR. Some relevant parameters on my quad:

AHRS_EKF_TYPE 2
EKF2_ENABLE 1
EKF3_ENABLE 0
EK2_GPS_TYPE 3
EK2_POSNE_M_NSE 0.1
EK2_EXTNAV_DELAY 80
GPS_TYPE 0
COMPASS_USE 0
VISO_TYPE 0

On the quadcopter there is a Raspberry Pi 0 (connected to FC with serial port) and a Raspberry Cam streaming video to Desktop PC via WiFi
On the Raspberry Pi 0

Raspbian Stretch Lite
gstreamer1.0 (installed with apt)
gst-rpicamsrc (https://github.com/thaytan/gst-rpicamsrc) to use rpicamsrc as source for gst-launch-1.0
ser2net (installed with apt) a serial to network proxy
in /etc/ser2net.conf add line:
2000:raw:0:/dev/ttyAMA0:115200 8DATABITS NONE 1STOPBIT

On Desktop PC
The video is streamed from Raspberry Pi with gstreamer and, on the PC, the node gscam get this stream and publish camera/image_raw and camera/camera_info topics.
On the PC aruco_gridboard (slightly modified by me) subscribe to the above topics and publish a camera_pose message to the mavros/vision_pose/pose topic.
SET_GPS_GLOBAL_ORIGIN and SET_HOME_POSITION messages (similar to this 1) are sent before starting to use the system.