I am trying to connect a Gremsy Pixy U gimbal to a Cube via Telem2 using the following channels Pitch CH 10, Roll Ch 11, Yaw Ch12 with a Taranis X9D and X8R but I'm having no luck so far.
Could someone please help decoding some the below settings for me?
Is setting Type to 'Storm32Mavlink' correct when using Telem2?
Is selecting the 'SERVOxx' for Tilt, Roll, Pan correct or is this only when connecting the gimbal to the pins vs Telem2?
Does enabling 'Stabilise xx' mean the gimbal gyros signals will come from the Pixhawk instead of the gimbal?
I assume the 'Input Ch' selection sets the parameter MNT_RC_IN_xx?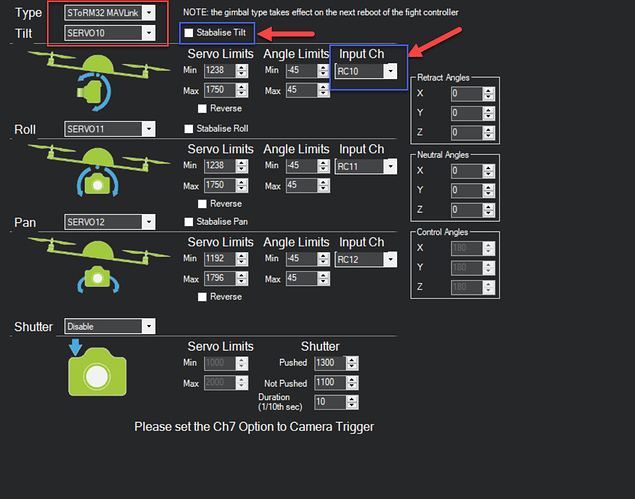 My Mission Planner setting are and ask if they should be changed?
SERIAL2_BAUD 115
SERIAL2_PROTOCOL 1
MNT_RC_IN_PAN to 12
MNT_RC_IN_ROLL to 11
MNT_RC_IN_TILT to 10
MNT_DEFL_MODE to 4
MNT_TYPE to 4
Any help would be appreciated.
Peter