The firmware is compatible with fixed-wing, multi-rotor, car, boat, etc.
Sorry, the first phase of the test flight control activity has ended.
We are looking forward to the second test flight control event.
Thank you for your reply, the first phase of the free flight control campaign is now over.
We are looking forward to the second phase of the free flight control campaign.
You can see my previous reply here.
That store gave me bad experience.
I bought makeflyeasy freeman 2100 VTOL
and my friend's one was missing parts also.
do you think is it normal that there is many missing or wrong part and have no reply from the store on RTF kit?
---
edited : PNP kit, not RTF kit. anyway, motor mounts or props or tilt servo mount was missing
If you experience same thing with me, you won't ask the reason
Very sorry to hear about your news.
We did not check your order message at Makeflyeasy UAV Store, you can submit your order number for us to check further.
We don't sell freeman 2100 VTOL RTF version either.
If you purchased from another store, contact your seller directly.
We do not have the right to restrict other sellers from changing the configuration of Makeflyeasy UAV to a different version for a second or third sale.
If you need an official configuration, we recommend buying the version you need directly from the Makeflyeasy UAV Store.
okay… no worries l, just let me know if you are interested for the second phase
Regards
Not on this thread, no I wouldn't.
Hi makeflyeasy!
My name is Aleksandr. I am a developer of drones with a long time (about 15 years of experience). Now I and my team are making drones to search mine shells. Our facebook:
Redirecting...
We made drones for agriculture: fertilizing fields, inspecting fields, and detecting violations of the perimeter. We try to use artificial intelligence on our drones.
We provide access to our developments (with certain restrictions) to all interested individuals and organizations.
Hello,
PixPilot-V3 is at home
Elements are protected in foam. All cables are identified.
SBUS In and Out,
Safety, CAN/I2C (x2) with Hub,
2xPower Cables (Long 50cm and Short 20cm)
USB Cable
In order to plug SBUS and Servos, you have to remove the lock: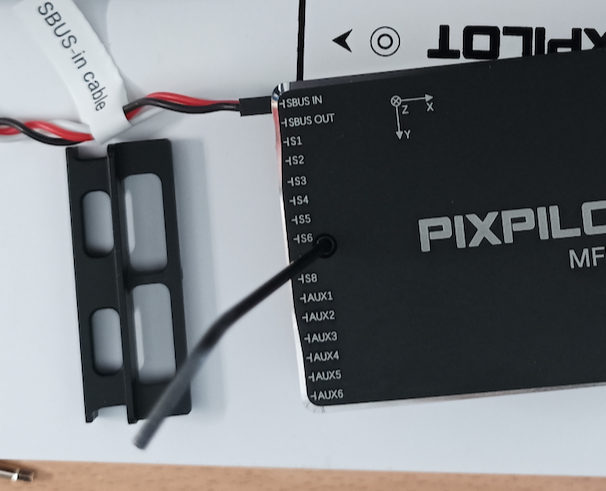 Here is my bench setup:
Out of the box, Arduplane 4.3.2 is installed:
Latest "Stable firmware" available is 4.3.2
Beta 4.4.0 Beta1 is available
More to follow
Marc
Hello
Thank you for sharing, the latest stable version is in 4.4, we are also waiting for the official update of ArduPilot.
hello, the package arrived very quickly. Thank you, I will start assembling some aircraft in the near future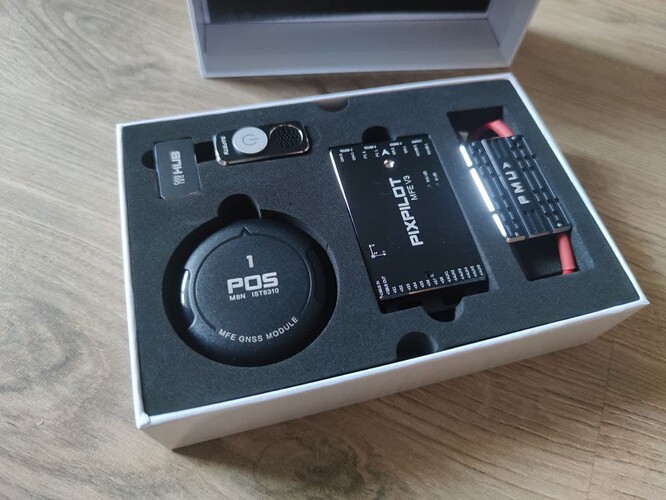 Thank you for sharing your pictures and I look forward to your assembly process.
I also received my package thanks @makeflyeasy. This will be going in a rover!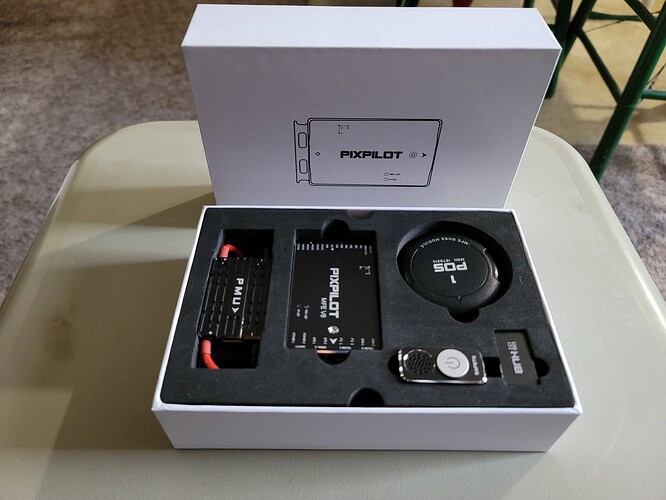 Looking forward to your project
It arrived! Very tasteful packaging, the FC is a masterpiece!
Thank you @makeflyeasy, now it's time to start building the TAILSITTER

Did you install the wooden plane? Looking forward to your test.
Mine arrived today.
I love it's look at the build quality seems very good.
I have a large drone that needs an FC upgrade and so this is destine for that machine.
Love the GPS, very nice looking unit.
Will let you know how it goes.