Hi all,
I've been very interested in the Arducopter Filter Review tool recently. (Thanks @iampete ) I went through the blog post here new FFT Filter setup and review web tool and watched the video, and I'm trying to make sure I'm understanding how to use the tool correctly and am interpreting my changes between flights correctly as well. I don't have as much background in engineering and programming as many of you here, so I'm struggling to understand parts of the tool. I think what I understand the least is what these graphs below are telling me.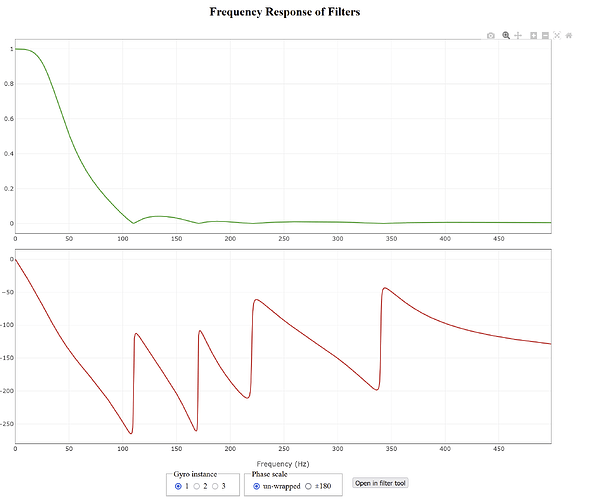 I used this tool to try to improve the filter settings on a HolyBro S500 quadcopter with a Matek F405SE FC. Here is a folder with two logs - one as I had the aircraft setup before, and then after using the filter tool and making some changes (notably adding a second notch) a flight with the new settings. I know the F405 is fairly at the limit of its abilities, but I did also run the logs through the Ardupilot Hardware Checker tool to try to see if the CPU and/or memory usage changed drastically between the two logs. To my observations, it didn't seem to be much of a change, but I could be missing something.
Would anyone be willing to look these over and help me understand the tools better? Thanks in advance.