A recent discussion made me wonder if updating the wiki's motor connection page might be worthwhile.
Rather than displaying a wall of images, we could simply provide a couple of dropdowns for selecting the frame class and type of choice and then procedurally generate the associated diagram with a bit of Javascript/CSS/HTML magic. Such a diagram could include not only the motor numbers and prop directions, but also the expected letter assignment for Mission Planner's motor test.
With a little effort, I think the frame options could be auto-generated much in the same way that the parameter lists are built during wiki generation for a bit of future-proofing (potentially by JSON-ifying relevant portions of motors-matrix.cpp).
The below screenshot looks nearly identical to the existing page's QUAD/X image, but I had a go at using HTML5's SVG tags to procedurally generate the shapes and text, which could somewhat easily be scripted.
I'm not sure if Sphinx/reStructuredText supports SVG tags, so canvas objects might also be a possibility.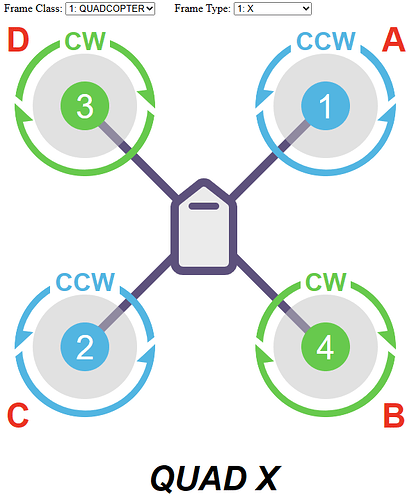 Anyone think this is a worthwhile venture to help alleviate confusion?