Hello,
I've been flying arducopter since version 3.3. Back in 2017 I tried precision landing with IR-Lock on Cube Black running Nuttx and Copter-3.5.7. Hundreds of auto missions were flown with that setup with no problem at all, until today.
With Copter-3.6.9 on Cube Black running ChibiOS, IR-Lock is not working:
Pixy camera is detecting the beacon just fine.
Pixy camera LED turns red as usual when detecting.
Pixymon shows the target being detected.
Pixy camera is connected to I2C1 port of SpektreWorks carrier board.
Lightware SF20 rangefinder is connected to Serial2 and working.
Below are the parameters used to work on Copter-3.5.7 on Cube Black.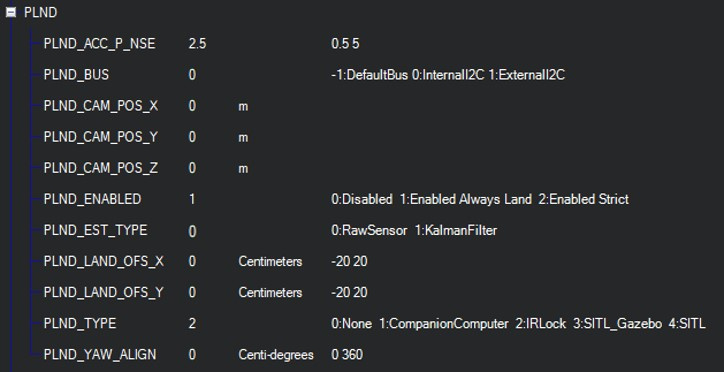 With Copter-3.6.9 though, if PLND_BUS is 0 (zero), Mission Planner reports "Bad Vision Position". If it's set to -1 or 1, the report goes away which indicates it's getting data from the sensor. The problem is when the mode is changed to LAND… the copter goes out of control and would crash without a human intervention.
The video below shows what happen when mode is changed to LAND. The pilot quickly change the mode to LOITER to regain control to prevent a possible flip and a crash.
This is also happening with Copter-3.6.6. Should I assume IR-Lock is not supported yet on ChibiOS? If that's the case, how can I revert back to Nuttx and Copter-3.5.7? Hope someone can help me to understand what is going on.
Logs are attached here.
https://drive.google.com/drive/folders/1XSjyNzF1PKFxvGenrXtX76P9LfTyA5t5?usp=sharing
Kind regards.
@ThomasSFL @rmackay9