Hi all,
I recently experienced an issue where my drone started uncommanded lateral movement within several seconds of takeoff in Loiter. On log analysis, I found a significant divergence between the ATT and AHR2 yaw values that appeared to be resolved by an EKF lane change when I switched from Loiter to Stabilized.
This drone has been flown in Loiter previously without issue. I am using a Cube Orange with ArduCopter 4.2.3. I have a HERE3 GPS/Compass mounted on an external mast ~5" above power wiring. The internal compass is currently disabled due to noise from the Cube's heater, which is on a significant amount of time for outdoor winter testing in Colorado.
Can someone point me in the right direction for digging deeper into the root cause of this issue?
Thank you!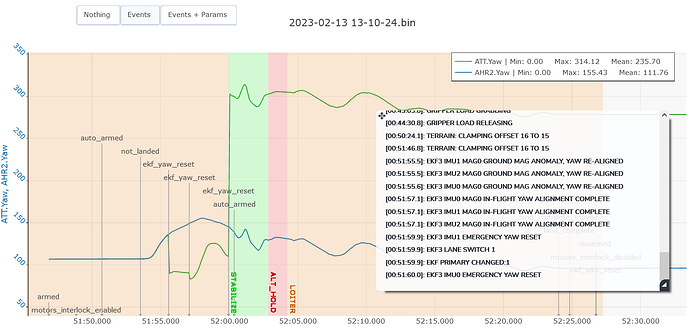 Log: https://drive.google.com/file/d/1gqcINRpjWOUyMZuHtsGypLkvmDF7mKyo/view?usp=sharing