Hi,
I've posted some questions before why the Kakute H7 V2 flight controller takes between 5-10min before you hear the motors play the arming tune. I found that after the FC has acquired GPS Lock for some reason, the motors will not play the Arming tune and you will not be able to ARM the motors even when Fence is not enabled. To make the motors play the arming tune, here's what I am doing and its been consistent.
Plug the main batteries

Wait until GPS 3D fix lock is acquired.

Plug in a USB back-up power.

Un-plug the main batteries.

Plug in the main batteries - This time the motors will play the arming tune.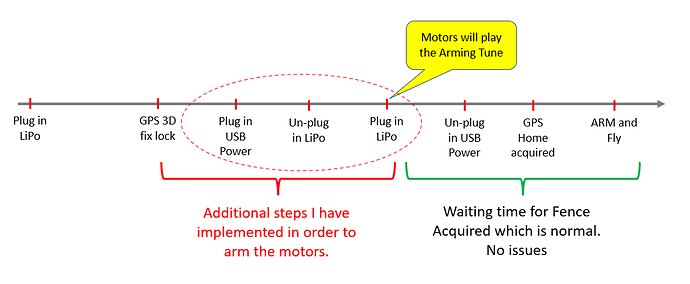 If FENCE is not enabled, then you can already arm the motors and fly, otherwise you have to wait for GPS Home to be acquired.
Is this a Kakute FC issue or a program error? I suspected that the supply voltage of the Kakute is below the threshold. Measured it but its 4.6V. To eliminate the double, I installed a 5V BEC but this did not solve the problem. The Quad is uploaded with Copter 4.3.1-rc.
The quad has been flying very nice and I am enjoying it. But if the additional steps to make the motors arm can be elimnated, then I don't have to carry a backup USB Power anymore.
Here's a video of the workaround.
Regards,
Carlou