Ed, this is a plot of your vibration in flight and the clipping on the accelerometer. You will see why I call it stair-case clipping. When it increases steadily like this it is exceeding the 16G limit of the accelerometer and your helicopter will not handle right.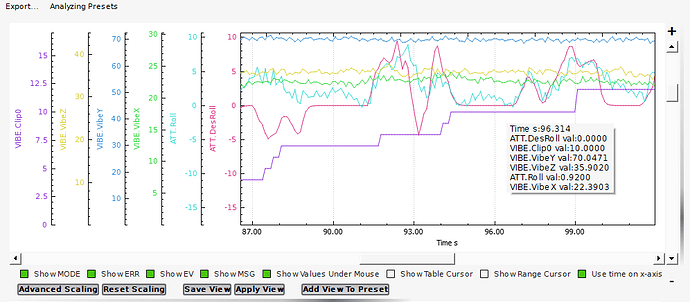 I hesitate to say to just damp the controller. A helicopter should not have vibration of this magnitude if it is properly balanced and tracked. What bothers me is this: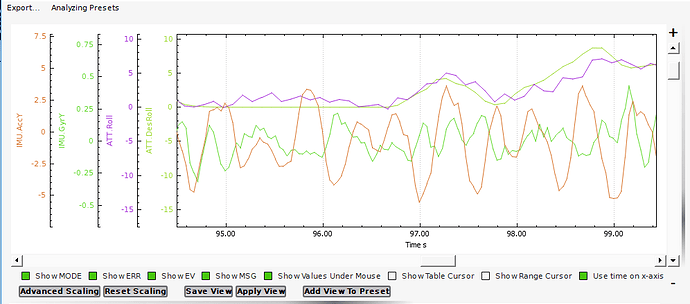 The above is a plot of your desired roll attitude vs actual. And the Accel Y and Gyro Y axis outputs. You can see that the desired roll attitude is pretty smooth curve. The actual is not smooth and is oscillating approx in tune with what the IMU is sensing in the helicopter frame.This indicates the helicopter is shaking due to a mechanical problem. I do not know what that problem is, but most likely would be in the main rotor system, either blades not tracking properly or out of balance causing the main rotor to wobble in flight.
For comparison sake, this is a graph from one of my piston helicopters that has had the main rotor tracked and balanced with a RPX DynaTrack, which is an instrument we use on full size helicopters to track and balance the rotor. It has a solid-mounted flight controller with no vibration damping at all. The vibration that it is measuring is coming from the helicopter's engine.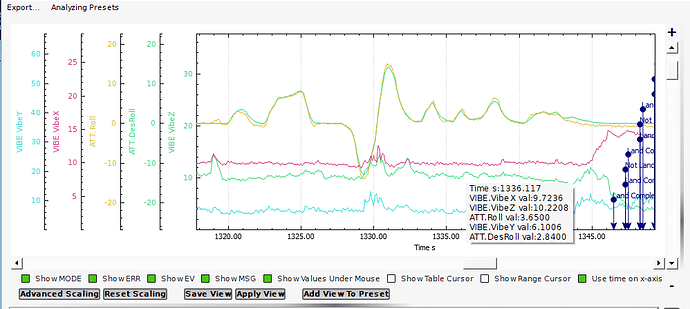 You can see that my vibration is much lower than yours. And my desired and actual roll attitude matches almost perfectly.
There is settings called IM_STAB_COL 1, 2, 3, and 4 that will make your Stabilize collective line up with the altitude controlled modes. It is recommended to watch the ArduPilot Ground School videos to learn more about how to set those.