We've had a few flights on a Pixhawk S800 setup running Copter 3.4rc2 where the altitude hold is poor. The interesting thing is that a power cycle (no config change) usually solves it. A rock solid flight could follow one with a problem. From the log and picture included, one can see that the Decent Rate or vertical velocity estimate does not match the slope or rate of change of the altitude estimate. Early in this flight, the "2m/s" climb rate was maintained, but actual climb rate tapered to nothing shown by the pressure altitude. After things settle, one can see there is a small steady state error for Dalt, and alt. This results in a calculated desired ~1m/s climb rate, and it's "achieved", but actual altitude remains fairly level until we recovered in Loiter and Stab.
Vibes are included as a leading candidate. They are far from perfect, but if the Z vibes are bad enough to screw up the vertical velocity estimate, I'm not sure why we'd only see it in something like %10-%20 of flights.
Attached are the relevant logs.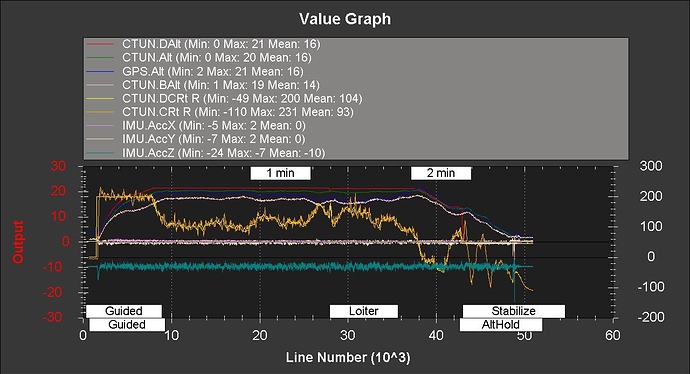 2016-08-19 15-38-41SSSodd2.bin
(1.9 MB)
2016-08-19 15-38-41SSSodd2.log
(4.2 MB)