Hi,
I have been tryin' to fly my quad in loiter using optical flow via mavlink.
From what I read I sent the SET_GPS_GLOBAL_ORIGIN to init the EKF and then the Vision_Position_Delta message to the ArduCopter.
Furthermore, i have set the following parameters flags:
AHRS_EKF_TYPE = 1
EK2_ENABLE = 1
EK3_ENABLE = 0
EK2_GPS_TYPE = 3
EK2_POSNE_M_NSE = 0.1
EK2_VELD_M_NSE = 0.1
EK2_VELNE_M_NSE = 0.1
BRD_RTC_TYPES = 2
GPS_TYPE = 0
COMPASS_USE = 0
However, inspecting the EKF flags the horizontal flags are not up. attached a screenshot of the MavLink inspector: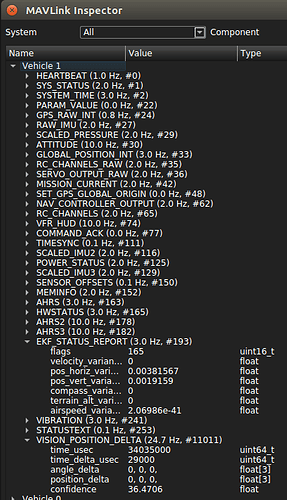 One more question, how can I sent the altitude via mavlink, I am uncertain which topic I can use. I am currently converting my altitude read to A2D for the pixracer to read.