A while back this forum solved my problem calibrating the compass on an mRo R15 board, but now I'm having a problem doing the same thing with my Matek H743 Mini board and Matek M9N-5883 compass:
This time there is no internal compass, and MP recognises my external compass as QMC5883L, but when I go through the calibration process the green progress bar goes to 100% and then immediately goes back to zero and starts again. I started with "Default" fitness but then changed to "Relaxed" after several cycles of 0 to 100% and back again to 0, but that made no difference. All three steps in the Accel Calibration section were completed successfully before I tried to calibrate the compass. The compass heading in the MP "Data" page doesn't change when I move the compass around, but the horizon responds correctly when I move the H743 board.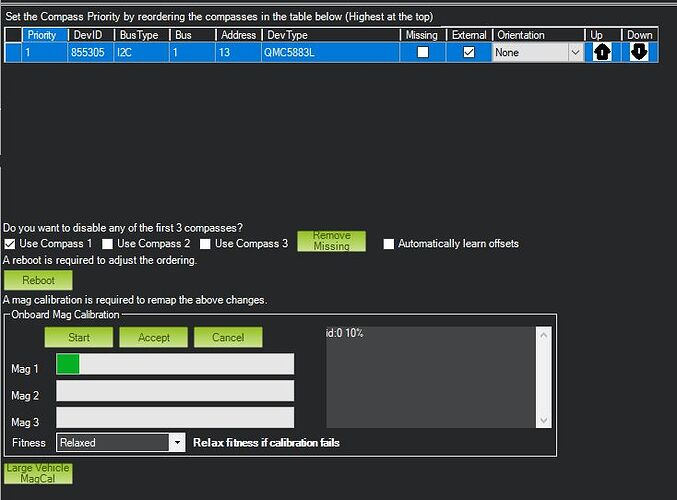 Using QGC to calibrate the compass results in the green bar going from 0 to 100%, but then an error message "Mag(0) bad orientation: 0/25 1.0", but it does recognise the orientation I've already set for the H743 board (-270).
The GPS/Compass unit is connected as per the Matek diagram below, and the H743 board is powered externally as well as from the USB socket.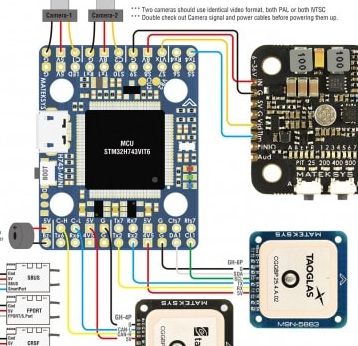 Any ideas what the problem might be, please?