Hi all!
I've trying to solve some problems with my F450 Chinese clone with no success. It fly correctly but suddenly comes into instability and seems it's going to crash. I use Pixhawk from aliexpress and cheap motors and ESCs.
I tried autotune but results are worse. It is now very unstable.
RCOUT for motors 1 and 2 are always lower than for motors 3 and 4. Motors 1 and 2 are sometimes even almost shutdown.
I've noticed that arms 3 and 4 are slightly more flexible than 1 and 2.
Results after autotune are the following: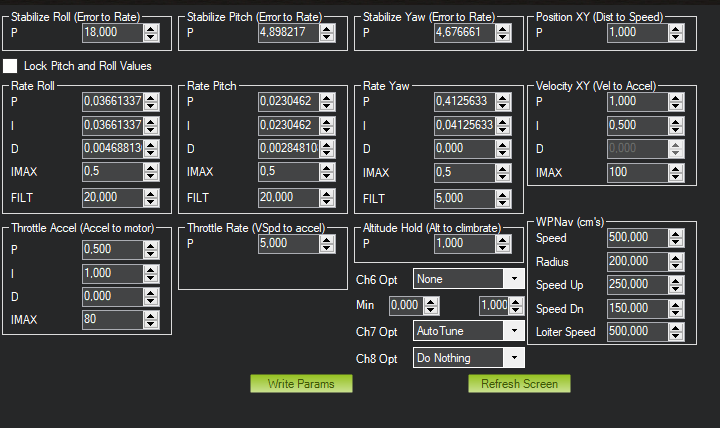 Here are the logs:
Autotune roll: https://drive.google.com/file/d/1sIndIY-pT_pzXDgy44AAxv2CpOJvVEXg/view?usp=sharing
Autotune pitch: https://drive.google.com/file/d/1P-Fk6scU5DWUm3fOWMKZmm-LztDmNkDk/view?usp=sharing
Autotune yaw: https://drive.google.com/file/d/1II3QtZB5jhLokGGX4plV6A6IrZ2n6-NQ/view?usp=sharing
Unstable flight after autotune all axes: https://drive.google.com/file/d/1EnGFhUChra1T68caY1ya4flAN-CL-vLE/view?usp=sharing
How can I tune my drone if autotune fails? Why autotune fails?
Does it necessarily mean that something is wrong the fact that 2 motors spin always faster? Any suggestions to solve it?
Thanks!!