Hi, when flying smaller (5" to 10") copters in fast forward flight, three-blade propellers are almost standard, because they produce less vibration. The most commonly accepted reason seems to be that with three blades, the oscillation of angle of attack of the blades in forward flight is more balanced than with two blades (where always one blade has a high angle of attack, and the other has a small angle of attack, producing vibration).
But on larger copters, I still mainly see two-bladed props.
I recently built a custom 3-blade propeller hub for the T-motor MF1806 propellers that we are using on our 5 kg, 18" quadrotor. I noticed some vibrations while flying at higher speeds in a large wind tunnel (video), and I thought that the 2-bladed props might be the reason.
And today I tested the new 3-blade setup, and I like it much better. I was flying the same auto mission with both setups. The mission is to oscillate several times between two waypoints at 30 meters distance with 5 m/s and with 7 m/s.
Vibrations decrease by a factor of 3, the power consumption is almost identical, the mean throttle drops. What is the reason that 2-blade props are so popular on larger drones…?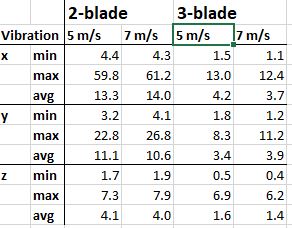 Edit: I accidentally flipped the labelling in the vibration table… Now it is correct. 3-blade has of course a much lower vibration level in forward flight.