Hello everyone!
I have been setting up a pixhawk-based plane.
The whole process was going well and the plane was flying. However, when i first tested the AUTO mode, the plane came immediately down.
Let me recapitulate the chronology of events.
I'm using the PIxhawk with Plane 3.7.1. I setup the parameters using data I had from a similar plane.
My first test flight went well. I used the modes FBWA, RTL and AUTOTUNE.
In my second flight I did use specifically the AUTOTUNE function to calibrate the flight parameters, as explained in manual. The behavior of the plane improved respectively, the curves in Mission planner looked liked they should.
In my third flight, I did use AUTOTUNE again, since during my previous flight the wind was to strong and I had to interrupt the flying. So, the first part of the flight was dedicated to do some additional autotune flying hopping to improve the flight parameters. Then I landed the plane and substituted the mode AUTOTUNE with AUTO in the settings (without disconnecting the plane from the battery once since the landing) , since I wanted to test mapping and other AUTO flight functions.
I started the flight again, went from FBWA to RTL to FBWA and then finally to AUTO. With this last mode switching the plane just went into descent immediately. The 1 to 2 seconds I had to react to go back to RTL where not really enough to save the plane, the velocity was to big and parts of the (foam) plane, I suppose the elevator, broke apart. There was nothing to do. It crashed deadly.

Well, I did have a look at the log files, but I still miss the experience to identify the problem. The only thing that calls my attention (but I might be misinterpreting the thing) are the ATT.(Des)Pitch values: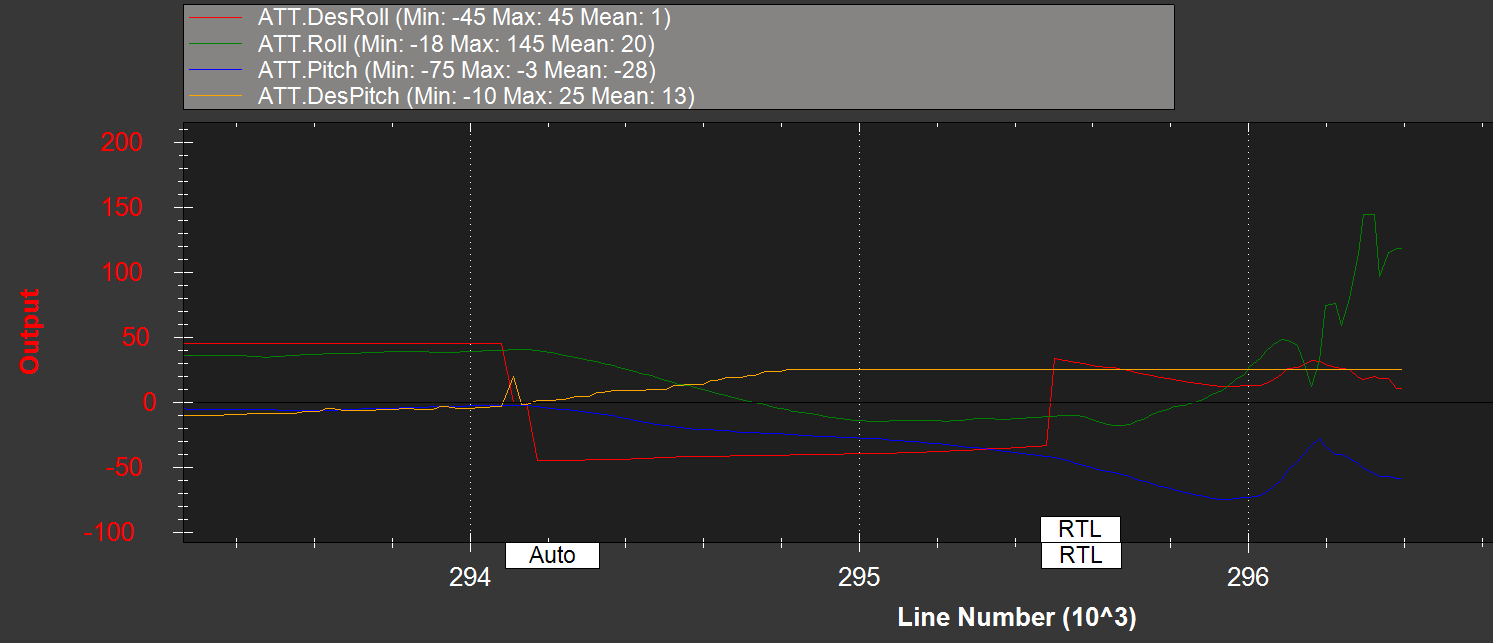 .
As far as I see it, although the ATT.DesPitch wanted to bring the plane up, it just went down (ATT.Pitch). It almost looks symmetrically.
I would be very glad if someone has the time to help me on this one. Maybe the error is so obvious, I just do not see it due to lack of experience.
You might download the log file here: https://drive.google.com/a/openforests.com/file/d/0B4Hds_6TKh84RTNpMXFUZlFLeTA/view?usp=sharing
Please let me know if you need something else to helpe me.
Best regards and thanks in advance for any help