I have a plane running ArduPlane 4.1.0beta3 without an airspeed sensor. During the first takeoff after startup, I routinely observe a sudden spike in the synthetic airspeed estimate. As the groundspeed passes through 2-3 m/s, the wind estimate suddenly jumps from zero to between 9-12 m/s. This happens seemingly instantaneously, between two log points. This causes auto takeoffs to rotate too early, often resulting in a stall. Once the aircraft is flying, the wind estimate slowly decays back down to a reasonable value, but after I land, the wind estimate starts to climb back up to around 12 m/s.
I don't understand why the wind estimate is changing on the ground or during takeoff, as it seems like there is no valid information available about the wind at these times.
Here is a log file from a flight that demonstrates this problem: https://drive.google.com/file/d/18hOdGEvFLae2GDkLKqr6QGcRWZyUy65v/view?usp=sharing. I have included some relevant plots below.
Here is a screenshot of the airspeed and wind estimates during the first takeoff: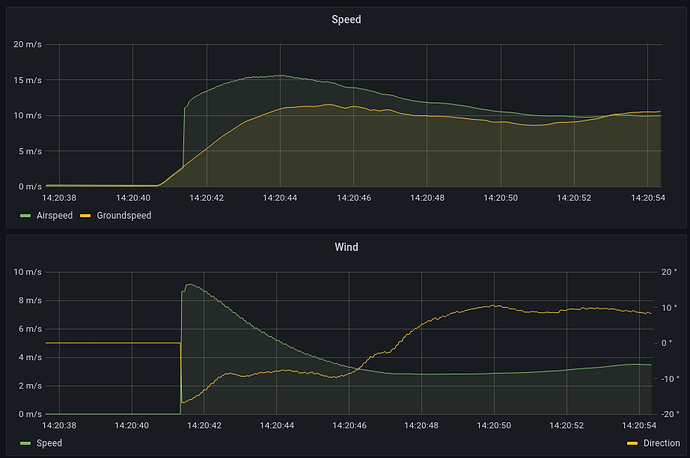 And here are the plots for the whole flight: