Rover-3.2.3-rc1/rc2 has been released for beta testing and you should be able to download it using the Mission Planner's "Install Firmware" screen's "Beta firmwares" link within the next few hours.
This change includes the following changes over 3.2.2:
Waypoint origin uses previous waypoint or vehicle stopping point
Boats send correct mav-type to ground station
TURN_MAX_G parameter description updates (allows lower values)
two paddle input fix
The first change is probably the most important because it fixes the issue in how we were calculating the "origin" of the track between waypoints. The red line below shows what we were doing, the green line shows what we do in 3.2.3.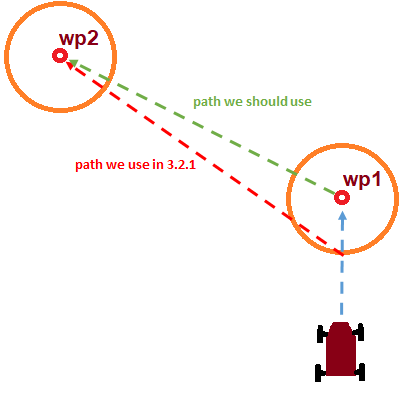 Here's the difference shown in the simulator when large WP_RADIUS values are used. There are other bad effects though that come from this bug:


Any and all testing of this beta would be greatly appreciated. If it seems OK after about a week of testing I'll push it out as the official release.
P.S. if you're wondering why we've jumped to "-rc2" it is because I initially forgot to include the two-paddle input in the release. Normally we add any commits or PRs we intend to "back port" into the latest official release in a GitHub project but we missed this one.