Just received a brand new RFD900+.
It won't connect to my Pixhawk2.1, meaning MissionPlanner will timeout when trying to connect.
But it works just fine with a Pixhawk1.
Using Telem1 on both. Triple checked RX/TX pairs.
Here's a screenshot that shows MissionPlanner tells me the two radios see each other though.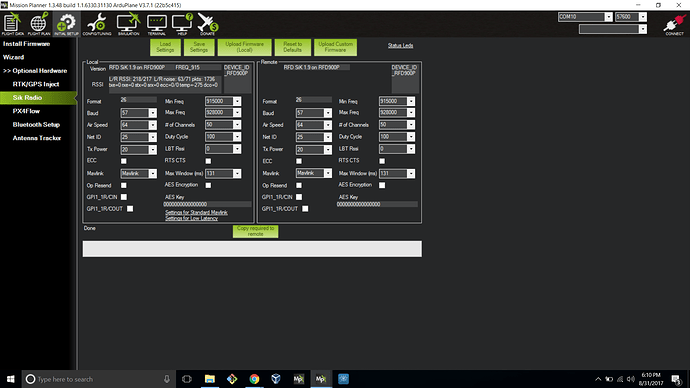 I've compared the SERIAL1_* , SR1_* , and SER1_* parameters between the two Pixhawks and they're the same:
SERIAL1_BAUD,57
SERIAL1_PROTOCOL,1
BRD_SER1_RTSCTS,2
SR1_ADSB,5
SR1_EXT_STAT,2
SR1_EXTRA1,4
SR1_EXTRA2,4
SR1_EXTRA3,2
SR1_PARAMS,10
SR1_POSITION,2
SR1_RAW_CTRL,1
SR1_RAW_SENS,2
SR1_RC_CHAN,2
Param file of Pixhawk2.1: https://www.dropbox.com/s/yfhc6k6aicoiu3v/v2.1-2017-08-31.param?dl=0
Parma file of Pixhawk1: https://www.dropbox.com/s/hity0ctmjg8cdnx/v2.0-2017-08-31.param?dl=0
Pixhawk2.1 is using ArduPlane 3.8.0, Pixhawk1 is using ArduPlane 3.7.1.
Anyone experiencing similar issues with Pixhawk2.1? @proficnc ?
Thanks