Hi all,
within the first flights of a newly built copter, I had the problem of occasional twitches in the roll-axis. Therefore, I performed a test where I turned everything on and recorded all parameters over more than 13 hours. And the results are indeed astonishing. Here is a plot: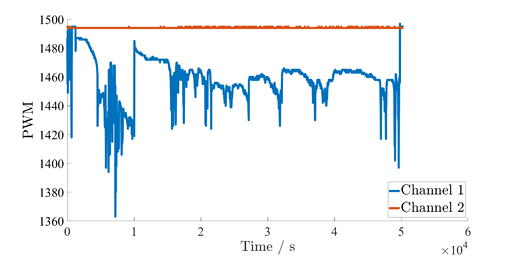 It seems like the first channel of the remote control is going crazy fluctuating from 1500 to 1360. Channel 2 changes from 1494 to 1495 very often which I guess would have no effect while flying. All other channels are solid constant.
All this is about a FrSky Taranis X9D Plus 2019 with X8R receiver.
Does someone have similar experience? What else can I do to find out if it's a problem with the transmitter or the receiver?
Thanks for any help!