Hi guys, I am using a Pixracer R15 to build my own drone but I ran into this issue when uploading a custom firmware with waf (the command was: ./waf --targets bin/arducopter --upload). The upload froze and I had to stop everything with CTRL + C, it don't work since.
When i connect the Pixracer to my PC a yellow LED starts flashing non-stop. Usually when this happens I can upload another firmware using Mission Planner, but this time it always threw the same error (I tried with different versions of Copter, Rover and Plane) :

I also tried with QGroundControl, and the error is the following one: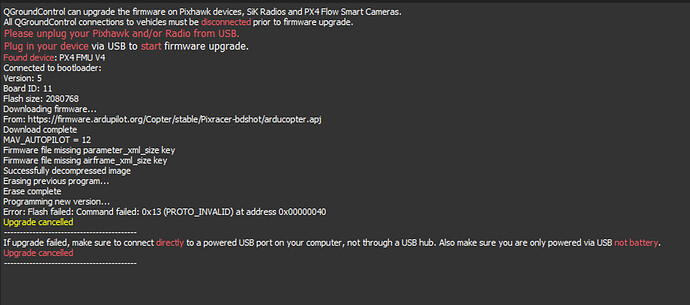 The connection via mavelink is also not working: "No Heartbeat Packets recieved"
I've seen other discussions about this and generally the problem is solved by upgrading the bootloader, but I am not sure of how to do it in the Pixracer. Usually the board is set to DFU mode and then an app is used to upload it, but the documentation of the Pixracer does not mention anything about this mode (or at least I have not found it).
How can I solve this? Is it really a problem with the bootloader or is it something else? If the bootloader is the problem, how can I reflash it in the Pixracer?
Cheers,