Hi together,
I have some trouble with the ground steering for a plane.
The settings I have done according to the manual and the start of the plane, a taildragger, runs very nice.
At current I start, fly and land in FWBA mode.
Problem come if I like to land the plane.
During the start the barometer change the offset or value to about -10m.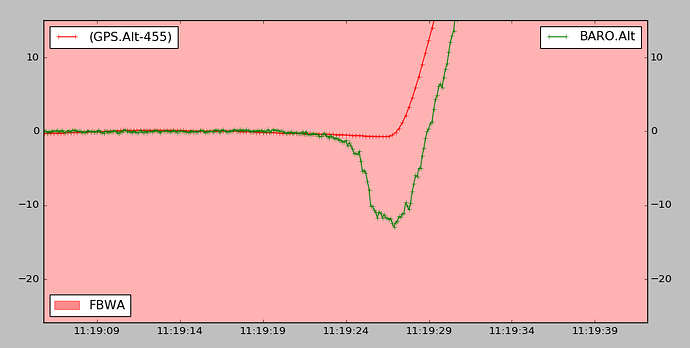 .
For ground steering you have to set the parameter GROUND_STEER_ALT to a value above zero.
For my case I choose 5m.
Problem during landing is that if the barometer value goes below 5m - regardless about the real hight of the plane the autopilot goes to ground steering and I loose the conrol over the rudder. Which I badly need for the final landing. More worse - the plane keep the direction at the moment he have had as the ground steering take over.
This flight ends in the fence and the plane get badly damaged.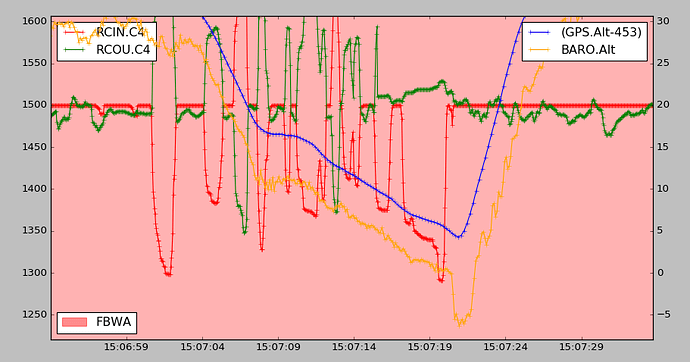 At the above picture you see the difference betwen GPS and BARO hight.
RCIN.C4 is the rudder channel.
At the manual is written that if the ground steering is aktive it locks on the compass (heading hold) and is only aktive if there is no rudder or aileron input.
Means for me the rudder and aileron input should be over the ground steering.
Seems something wrong here.
Some ideas how to come out here would be very kind.
Best regards,
Markus