Hi, I am using ArduCopter V4.2.2 and a hexacopter with the following configuration:
F550 frame with A2212 1000KV 13T Brushless Outrunner Motors, 30A Brushless ESCs, 2 x 3S 3300 mAh in parallel, and 1045 Plastic Propellers. Total weight of the craft (all inclusive) is 2.1 kg.
While I was doing a waypoint mission, the aircraft suddenly decreased in altitude and then I received "Potential Thrust Loss (2)" error. The aircraft managed to recover and continued its waypoint which then started to lose thrust again and then downed. I attached a screenshot of the graph plotted below which shows the altitude in "Red", Throttle Hover in "Green", and Motor 2 PWM output in "Blue". One can see that Motor 2 output kept maxing out several times while the Throttle Hover was around 52%.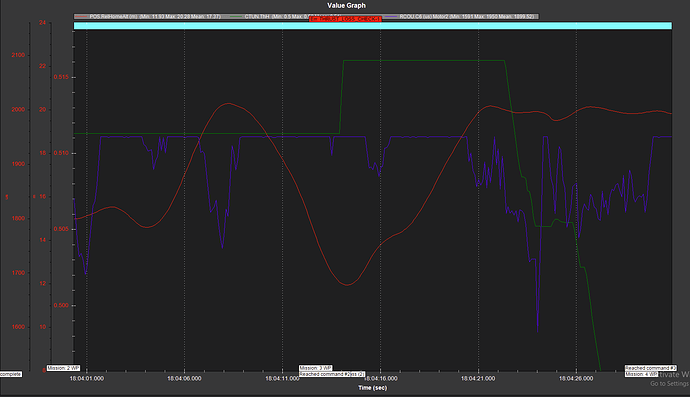 I read several threads of the same problem but I am not sure if my case was due to overweight given ThH was 52% or could it be an ESC wiring problem?
The Binary log file can be found in this link:
https://drive.google.com/file/d/1kz0CJ6soos-IS6gJuCuALDsKCWuX5m34/view?usp=sharing
I am looking forward for your insights. Thanks!