Hi there,
I've been flying an XL Quadrocopter with about 8kg weight and a 15.000 € camera for a year now. There are also 2 parachutes on board. So far, everything has worked great.
Then a few days ago I updated the firmware from 3.5.7 to the latest version 3.6.6 and I have also flown twice. Unfortunately, the Pixhawk simply triggered the parachute (at 30m) on the third flight for no apparent reason? (At least I do not see one) The parachute was not triggered manually (PWM channel or Mavlink).
There were no abnormalities in the flight and the Copter flew well.
I was lucky that the parachutes just have opend before the ground, otherwise it would have become very expensive. This must not happen again.
Except for the new firmware version I have not changed anything…
It would be nice if someone could help me and have a look at the log file to determine why the parachute was triggered. Maybe its a bug?!
Thank you!!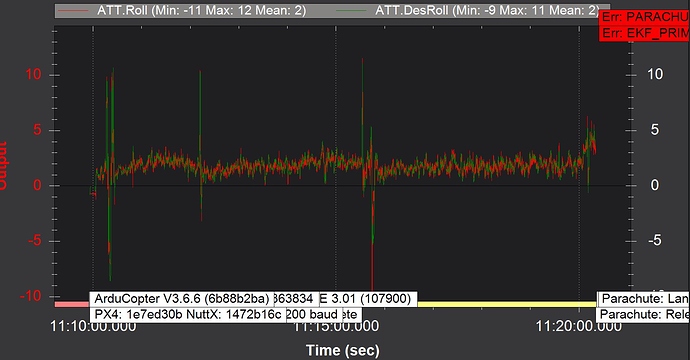 Logfile: https://www.dropbox.com/s/szp768x3n7oa2cn/00000007.BIN?dl=0