I am trying to get EKF 2 to function properly on my Pixhawk 2. When the Pixhawk turns on, the led flashes "double yellow" and the indicator on the mission planner HUD shows EKF in red text. When clicked on, a panel appears that shows velocity_horiz Off and pos_horiz_abs Off in red text. I have attached a picture of this below.
I haven't setup an RC controller, so I assume that that is the source of the RC errors. Apart from that, the messages panel contains very little information as to what could be wrong. Once the MavLink connection has been established, the following is logged:
GPS: u-blox 1 saving config
Frame: HEXA
fmuv2 0048001E 33355102 34303335
ChibiOS: ff603d11
ArduCopter V3.6.3 (63eb66fe)
u-blox 1 HW: 00080000 SW: ROM CORE 3.01 (107888)

The 'Arm/Disarm' action returns 'Error: command rejected by MAV'. In the PreFlight Panel, all conditions are either green or white.
Here is a pastebin with all of the parameters.
And here is a picture of what the EKF panel is showing: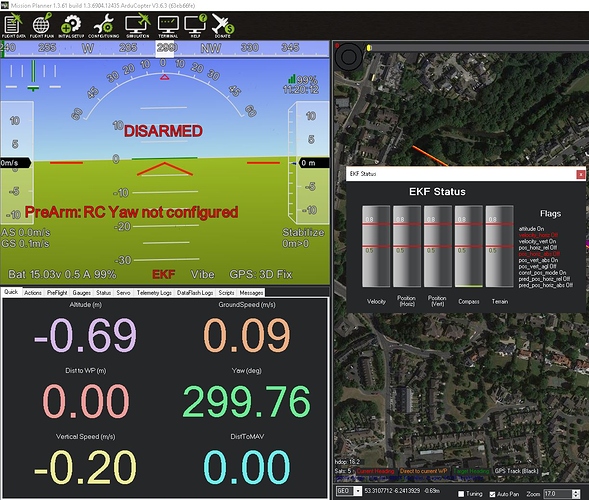 I would be grateful for any ideas/suggestions you have as to how I can solve or further debug this problem. Thank you for your time.