Hi all,
My 500mm (distance between motors diagonally @ 80 deg frame) quad with 9.4" DJI props with DJI phantom motors running latest stable version of Arducopter.
I ran autotune but i noticed that my P and I values are not as per the wiki where it states that
As a general rule, for Pitch and Roll, P and I should be equal, and D should be 1/10th P. For Yaw, I should be 1/10th P and D = 0, in most cases. But its not the case with mine values after autotune as seen in the attached pic.
Also i noticed my Yaw overshoots and its quite slow to react. Probably because my 250gm gimbal with gopro is sitting ~150mm from the CG to the front and battery away from CG as well to balance it. I ran autotune without gimbal though.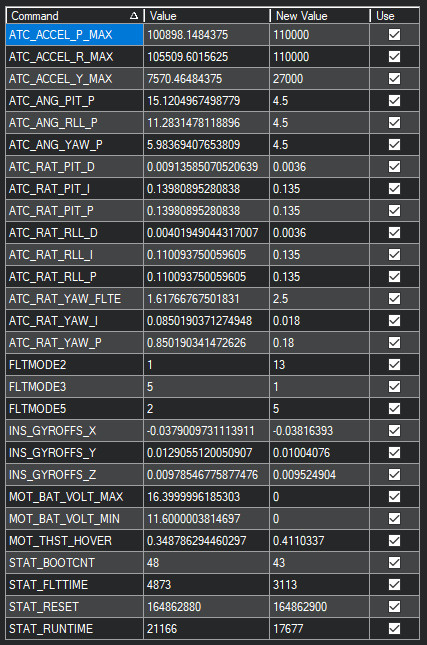 Here is my autotune and after autotune logs:
Could anyone please suggest me how can i correct Yaw overshoots.Thanks