Hello,
I'm fairly new to arducopter and I'm having some trouble getting a hexacopter to behave properly. It flies great on stabilize and altitude hold, but if I change to loiter or RTL it will start oscillating back and forth with the oscillations only growing until I switch back to stabilize or altitude hold when they stop. This happens when I try to land also where the hexacopter will start to descend fine but then start oscillating to the point where it will just crash into the ground. Here's my pitch graph from the flight log. You can see the sudden big jumps in pitch when I try switching to loiter or RTL.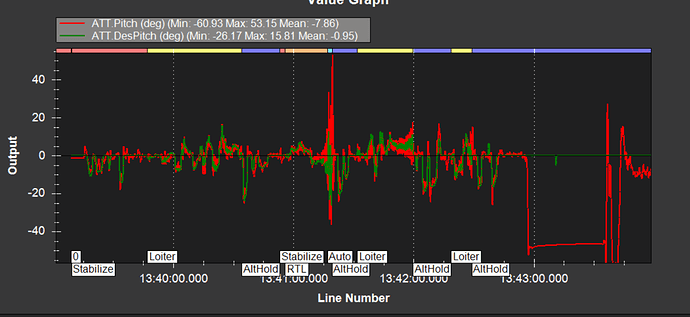 Here's the flight log, I'm flying a F550 hexacopter with 10 inch props and a Pixhawk 4 Mini flight controller with an external GPS module.
https://drive.google.com/file/d/1YLaZeNx20NHqmSDD_HO15y63Wy9hcWja/view?usp=sharing
Any help would be appreciated!