Hey Guys,
i try to get my oktoX in the air, its not my first ardupilot uav… but i cant find the problem, hope you can help me.
Hardware:
DroPix 2 https://drotek.com/shop/en/dropix/478-dropix-flight-controller.html
Here GNSS https://drones.altigator.com/here-gnss-gps-for-pixhawk-21-p-42426.html
DJI S1000 frame with arms mounted correctly for the pixhawk motor direction.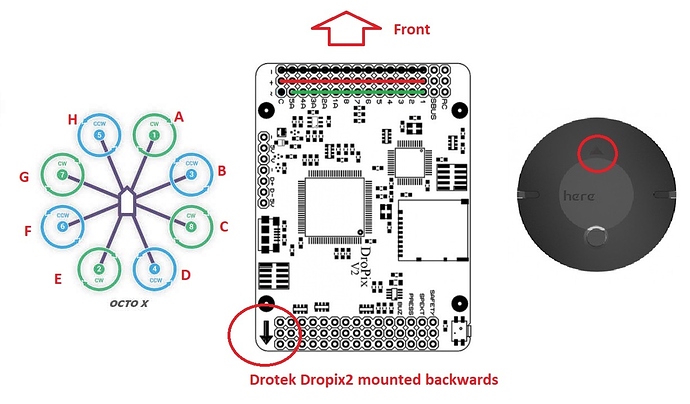 i have my dropix mounted with the front pointing backwards.
What i did:
Flashed copter octa 3.5.5 with MP 1.3.56
AHRS_ORIENTATION 4 (yaw 180°)
reboot
FRAME_CLASS 3
FRAME_TYPE 1
reboot
calibrated ACC
reboot
calibrated compass
reboot
calibrated RC
reboot
Checked ahrs orientation in mission planner hud. Follows my movements also the yaw.
MissionPlanner motor check works as shown above (A…B…C…), Motor directions are correct, Props are mounted the right way (please have a look at the image)
Tryed to take off. the okto is flipping and yawing wildly, looks like sensor orientation or motors are wrong.
I have two of those uavs, hardware is exactly the same, both act the same.
Link to configuration file and log of tying to take off:

funfact: i had a similar problem here and was never able to figure it out.
i would LOVE some advice what to do now! Hope you can help me out