Underneath is an image of the quadcopter(ready to arm)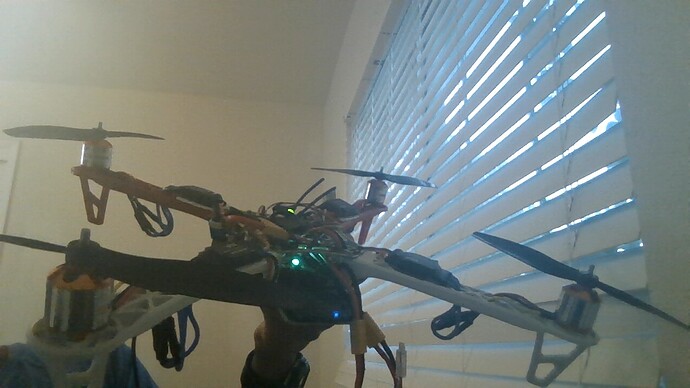 I couldn't insert a video of the drone, but the issue is that on arming, the motors spin then immediately stop, even though I command full throttle, and it stays armed after that until either it times out after 15 seconds of minimum throttle, land detector triggers it to disarms, or I manually disarm it. It doesn't respond to stick movements(roll, pitch, yaw). I have some various .tlogs from various flight attempts(I don't have telemetry radio or wifi, I just connected with usb while I spun the motors up). I think it might be an issue on the esc end(I use 30a simonk escs). Also, I have no power module, you can see one but the cable doesn't work(One day I pulled it too hard.) Also, there are gps glitches, but they clear quickly and don't appear to be the issue.
2021-11-21 16-01-11.tlog
(205.1 KB)
2021-11-21 16-03-37.tlog
(554.6 KB)
2021-11-21 16-17-01.tlog
(383.9 KB)
2021-11-21 16-22-00.tlog
(203.8 KB)
2021-11-21 16-24-59.tlog
(641.5 KB)
My question is why is this disarming, and what should I do? thanks for reading this.