Hi.
This refers to Mission Planner linking mission waypoints from a .kmz file, appearing after downloading a .bin file or with MP->DataFlash Logs->Create KML + gpx button. Waypoints appear linked a bit randomly at times.
This was first reported here:
ArduRover on real competition R/C 1/10 car on real circuit: missions. FAR FROM WORKING (post 62 august 22)
referring to a copter and rover simultaneous mission, with the same waypoints, as appears in this 4K video:
http://youtube.com/watch?v=D4G8mLKjXaE
Two voices are heard, from two instances of MP (for copter and rover) on same laptop.
After several MP updates the problem continues.
Since the explanation there is messy (coordinates shifted), here is an easy way to reproduce the problem:
-Download both .bin files:
Simultaneous_Copter_20180822_30.bin
Simultaneous_Rover_20180822_63.bin
-MP->DataFlash Logs->Create KML + gpx button for both.
-Open with Google Earth both .kmz generated files, and select Waypoints for both.
Here is the result for the Rover file: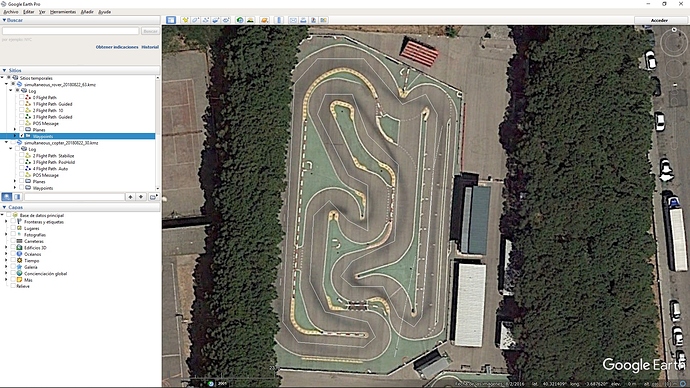 Waypoints linked correctly.
Here is the result for the Copter file:

Waypoints linked a bit randomly.
Both missions are essentially the same but there is a difference: the Copter mission has aditionally TAKEOFF (22), DO_SET_ROI (201) and LAND (21) waypoints, which have no meaning for Rover.