I'm using a 3DR 915Mhz Radio Wireless Telemetry set that I bought from here eBay, it looks liks this:

I've connected the ground telemetry to the computer via USB and the remote one to TELEM 1 on my pixhawk 2.4.8
I've opened Mission Plannar, made sure I have the Silicon Labs CP210x driver, changed the port to COM12 and Baud Rate to 57600 and went to SETUP -> Optional Hardware -> SIK Radio configuration and clicked 'Load Settings'.
What appears in the screen is only the ground module settings which are in the following picture: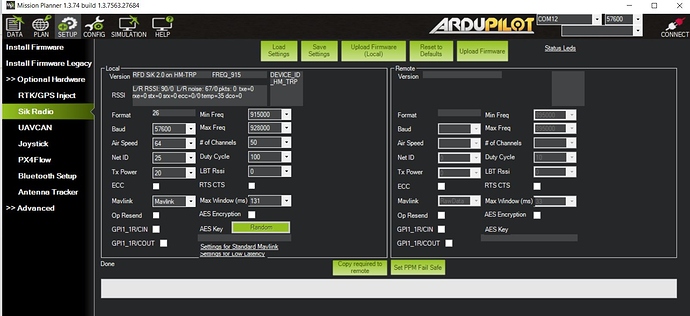 The air module just blinks and doesn't show its settings, meaning it can't connect to it.
What I've tried:
going through this post Sik radios failing in Mission Planner new version - Known Issues
connecting, disconnecting, restarting computer
download rfdesign tools from https://files.rfdesign.com.au/tools/
searching over the internet for a solution and I still don't seem to find anything related to how to connect to remote telemetry (atleast to see the settings it has, and maybe configure them differently so it can be connected to the ground module w/ similar settings)
Uploading the previous version 1.9 and still same results.