I am flying drone autonomously and controlling drone using GUI(GCS) which sends commands from RPI attached to pixhawk(version 2.4.8) running arducopter(firmware version 3.6.9) quad(+) configuration. I am using Here GNSS(M8N) gps. I am using mavlink commands to control the drone by running pymavlink python library on RPI. In my last flight, my drone misbehaved just after listening to takeoff command. When it took off, it started to move in only one direction. I tried to land the drone when i saw it moving itself in one direction. I send land command to pixhawk from my GUI(GCS) and i ensured on my GUI(GCS) that my pixhawk took the land command but it didn't land. It kept koving in one direction and stopped listening to any mavlink command given from GUI(GCS). I also noticed as it was going away from me it keep increasing its height.
I recovered the log files of last 2 flights of that drone, everything seems okay with the second last flight but i got many errors in the last flight. The main errors i found was: EKF_CHECK-2 and FAILSAFE_EKF-1 with some other errors too. One important thing is that i always fly my drone with all failsafes being off.
I wasn't able to make out what was the concrete reason for that drone to go totally out of control and moving in one direction. Thing which troubles me more that i found from the last log that my drone did listen to land command but it didn't landed, how come in any case my drone will override the land command and other mavlink commands in case of errors.
I am sharing the pictures of that drone's last 2 flights, also the log when my drone goes out of control.
This is altitude graph of my drone's second last flight where everything seems okay and according to GUI(GCS) instructions: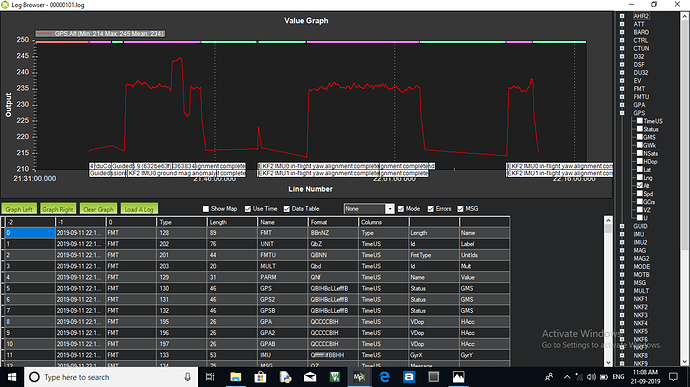 This is also the altitude graph of same drone in the last flight where my drone goes out of control, height here changing itself, you can also see it took land command but didn't landed and throw many errors too: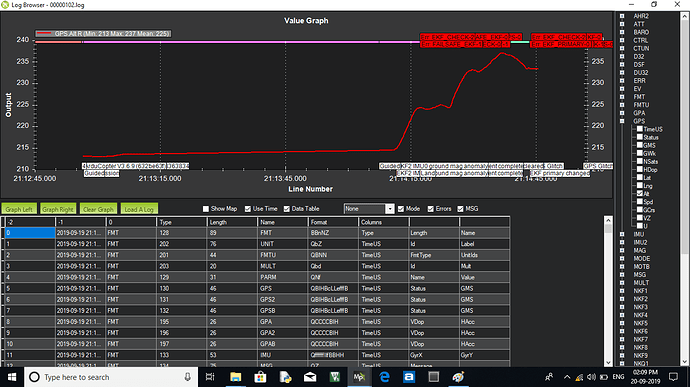 This the log of last flight:
00000102.log.zip (391.5 KB)
Please can someone help me finding the concrete reason why my drone misbehaved like this and stopped listening to all mavlink commands, specially land command when it throw the errors