English translation of title
The Failure of yaw self-rotation in traditional helicopter Loiter mode
@wangjiayun please post a log
@wangjiayun i watched the video. I really need to see a log to determine the issue. If I had to guess, I would say that the rudder trim on your transmitter does not match the the trim parameter for the rudder channel (RCx_TRIM). Which means that the yaw rotation is being commanded by the pilot.
反复确认过重心,而且也试过头重或者尾巴重,排除重心问题。Stabilize模式自旋转正常。Loiter模式手动遥控YAW,自旋转出现抬头倒退航线刷锅,马桶严重性和自旋转速度成正比,也就是自旋转速度越快抬头情况越严重。且左边旋转比右边严重。我的几乎所有直升机都有这个现象。超低速旋转可以大幅度减缓或者消除。请教一下什么问题导致?是否固件里缺乏自旋转时的姿态修正补偿算法?
日志文件体积超标。无法上传。请问是否还有更适合的途径?
将日志文件放在谷歌驱动器或一个驱动器等云
然后在这里发布链接
这是一个独立的日志。已经包含在之前的压缩文件里了
链接:百度网盘 请输入提取码
提取码:2222
直升机遥控通道定义是常规的设置
日志已经发了,麻烦下载帮忙看看。麻烦留意向左旋转时
Mobile phone numbers in China cannot be registered with Google Cloud Disk… "The phone number displayed cannot be verified. Please understand that the phone number has not been fully disclosed in this forum for privacy reasons.". If so. I request you to contact me on WeChat. We have contacted WeChat before
Maybe besides Google. Do you have any cloud disks that can download files?
或许除了谷歌。你还有什么可以下载文件的云盘?
I have repeatedly confirmed the center of gravity, and I have also tried to eliminate the problem of center of gravity by weighing my head or tail. The self rotation of the Stabilize mode is normal. The Loiter mode manually controls the YAW, Automatically generate a 倒车 course when the remote control command rotates itself, which means that the faster the self rotation speed is, the more serious the head is. And the left rotation is more severe than the right. Almost all my helicopters have this phenomenon. Ultra low speed rotation can be greatly slowed down or eliminated. Could you tell me what caused the problem? Is there a lack of attitude correction compensation algorithm for self rotation in firmware?
Stable mode self rotation is normal
I had a similar issue with your cloud service.
@wangjiayun 你需要提供日志,而不是视频,这样会便于其他人帮助你分析它,建议你使用英语留言,利于沟通。我已经帮助你将日志上传到dropbox了。
I have transferred his log file to dropbox @bnsgeyer
你的地磁传感器(罗盘)似乎超过了正常范围水平,建议你先尝试更换地磁传感器的位置或者使用外部地磁传感器离开电机或者带磁场的物体。
非常感谢您的帮助,我的英语不是很好。只能通过翻译软件使用英语。我再想其他办法克服解决上传和沟通的问题。以后有问题还希望您能不吝赐教。
至于罗盘。我已经关闭了飞控板载内置罗盘。只使用了外置罗盘。外置罗盘安装在尾管上,用塑料支架安装,而且我之前也在飞行中打开了这个实时回传的罗盘健康度做360度自旋转进行监测,罗盘的进度条一直低于数值0.5,一直处于绿色。估计应该时能做到的最好效果了。实在不行你觉得我是否可以尝试把所有罗盘关闭,用Loiter mode再自旋观察姿态?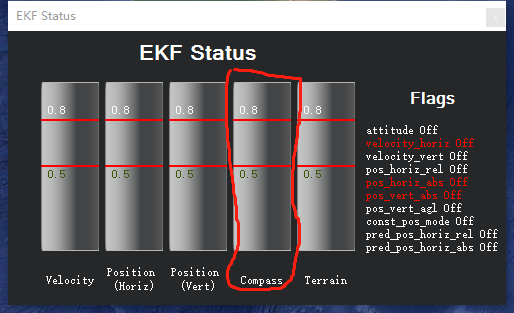 Can the forum release or expand the upload volume of files. Slightly larger files or videos can only be implemented using other websites. Increased communication threshold, it also affects technical communication
Jason,
Thanks for helping out with this.
Regards
Bill