Hi everybody,
I want to use the BENEWAKE TFMINI plus as an altitude sensor for indoor flights.
Right now I have the drone on my workbench so I am not sure if this will effect my problem.
I set up the rangefinder parameters and i can see the correctly measured distance.
However, the altitude in ALTHOLD mode does not refer to this reading ( picture attached)
Basically the questions comes down to this:
a) The Altitude in the HUD does not equal the altitude the controller uses for its calculation
b) For some reason the controller refuses to use the Lidar Reading for the altitude.
Besides the ones specific to the TFmini i set the following parameter:
EK2_ALT_SOURCE: 1
EK2_RNG_USE_HGT: 70
EK2_GPS_TYPE: 3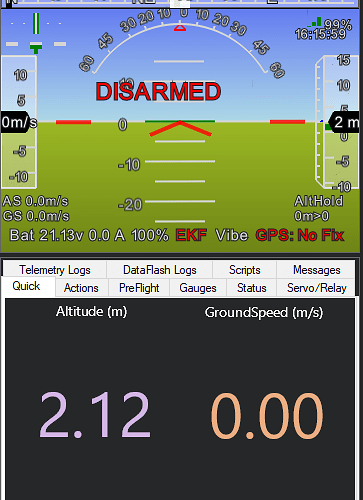 Thank you all very much!