Hello,
My name is Tomasz, and I don't have much experience with Ardupilot.
I'm working on a university project which aims to build a drone which can autonomysly takeoff, deliver a small package and return to home. So fare we have managed to assembly a drone, install and partly configure the ArduPilot 3.6.
Our stack:
On the Raspberry Pi we run our software (a small NodeJS HTTP server which listens to messages) and Ardupilot. Now the quesion is, what is the best way to control the ArduPilot from the JS code from inside the RaspberryPI. JS code should be able to adjust and start a mission preloaded from a file. (ie. list of 3 possible delivery destinations)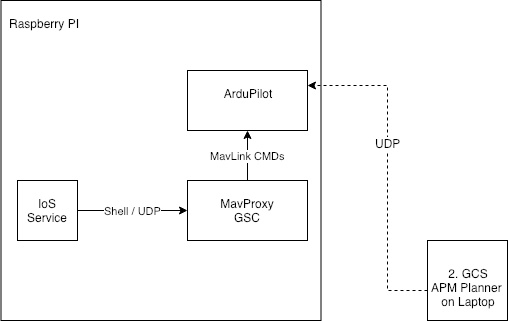 Is it possible to control the drone through out MavProxy running on the same machine ? If so how should JavaScript code interact with MavProxy? UDP, Shell scripts?
We would kindly appreciate any suggestions !

Ps. Of course there will be a supervisior with a RC controller ready to take over control
Best,